Southeast Asia Growing in Popularity
Southeast Asia came from far in its aim to be an attractive investment area. Over the past years the region experienced a strong economic growth. Since 2012, Southeast Asian startups were able to put in more money than the year before. In a market with over 600 million consumers together with the world's fastest growing internet market, Southeast Asia's time has come now.
The change affects startups and investors in this region positively. With the ecosystem maturing, larger capital is flowing in and out for both parties in this increasingly competitive market. More opportunities are arising for upstream, downstream and in previously untouched sectors due to the lack of capital and infrastructure. Venture capitalists are expanding their investment range and are situated in a more competitive environment in which they have to compete to get into deals. The region acknowledges nine unicorns with several others coming up. Those startups are increasingly raising bigger fund to keep their trendline in steady growth.
Chinese tech giants and Silicon Valley majors are currently in a battle with each other and with regional managers for a slice of this increasing market. No surprise, knowing that the internet economy's expectation of 2017 was to hit USD 50 billion and will exceed 200 billion by 2025
Globally, it is clear that Asia overtook Europe when it comes to Private Equity and Venture Capital. From 2016 to 2017, Asia saw a rise of around 13% while Europe has been steady for the past years. North America is the biggest player and takes the lions-share in this sector. Asia's fast-growing economy and advanced technical resources make the area more and more attractive to invest in.
High-growth sectors in Southeast Asia
There are some sectors that show quicker progression than others. Those are high-growth sectors and most of the time sensitive to technology. The following are some sectors which are perceived as attractive markets. Later in this report, you will find them validates by the unicorns resulting from this market.
Fintech
More than half the adult population of ASEAN is unbanked and lack of access to financial services is acute in rural areas.

In ASEAN, P2P lending is forecast by Allied Market Research to grow at a compound annual growth rate of 51.5 percent to 2022.
The unmet electronic payment needs across four ASEAN markets: Indonesia, Philippines, Cambodia, and Myanmar is in total more than USD 180 billion
In these four markets, the credit market currently serviced by the informal sector is worth approximately USD 80 billion.
E-commerce
E-commerce sales of first-hand goods were estimated to have reached USD 10.9 billion in GMV in 2017, up from USD 5.5 billion in 2015, growing at a 41% CAGR.

The overall regional e-commerce market is expected to hit USD 88 billion by 2025.
With an average of 140 minutes per month per person spend on e-commerce platforms, SEA outperforms the US who spends on an average of 80 minutes per person.
Transport
Transport demand in Asia had increased on average four times per country since in 1980 ride-hailing services in Southeast Asia were expected to have reached USD 5.1 billion in 2017, double the USD 2.5 billion market size in 2015.

The overall ride-hailing market is projected to touch USD 20.1 billion in GMV by 2025.
Two of the biggest unicorns in Southeast Asia are ride-hailing majors; Grab and Go-Jek
Other sectors
Online travel; due to the growth in airline and accommodation industry

Online media serviced; driven by online ads and gaming
PE/VC investments in Southeast Asia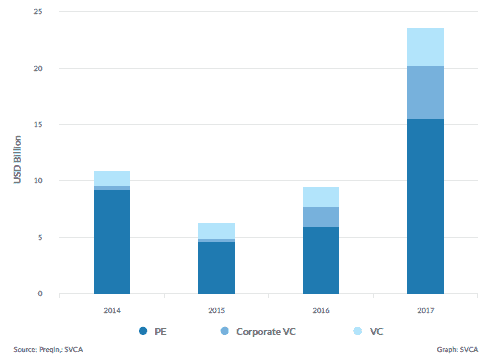 According to Preqin data, private equity and venture capital investments into SEA has nearly tripled its intensity to USD 23.5 billion in 2017, this growth has never been so high in four years. It was driven by a surge in corporate investment as leading companies across Asia co-invested in or led funding rounds for startups in this region. In the end, in seven of the top 10 deals in Southeast Asia for that year, corporate investors were part of it.
Singapore and Indonesia's role in PE/VC investments in Southeast Asia
The best areas within Southeast Asia for PE and VC investments are Singapore and Indonesia. Together they account for over 90% of the total deal value in 2017. The pro-business policies, tax treaties and a transparent regulatory regime make those countries interesting for fund managers and businesses seeking in SEA. As the fourth-largest economy in the world, Indonesia remains a key market, and significantly untapped at that, for businesses and investors alike. It is also home to four of the region's unicorns: Go-Jek, Tokopedia, Traveloka and Bukalapak.
Vietnam continues to show promise, with investments growing almost three times over the last two years to exceed USD 510 million in 2017.
Private Equity in focus
Private Equity deal value in Southeast Asia increased from USD 9.2 billion to 2014 USD 15.5 billion in 2017. The increasing PE interest to private transactions was the drive for the deal activity in this region. Such deals grew at 113% annually in three years. In one-year privatization deals involving PE firms grow 5.8%, led by the mega GLP deal.
Venture Capital in Focus
Statistics show that investments stood at 0.04% in 2014 and increased to 0.18% in 2016. This shows that the inflow of venture capital in Southeast Asia has been rising in the past years. This rise in investments led to a par with India when it comes to the proportion of GDP and is slowly pursuing China who is currently at 0.3% of GDP.
The amount of investments coming from VC's in Southeast Asia grew 4.8x from USD 1.7 to USD 8 billion (Preqin data). When it comes to seed and series A investments, the region saw an increase from USD 39.5 to 83.1 million. The largest gain was seen at series C and onwards. The investments had an increase from USD 738 million to 6.3 billion. Series A and subsequent financing rounds resulted in 79% of the VC investments for 2017.
Changes in the Southeast Asian sector
Unicorns launch IPO
A startup's exit path is relevant to investors. Still, Southeast Asia does not have relatively that much experiences with big exits. Looking at the fact that most startups right now are unprofitable and burning a lot of cash with the aim to grow, a public market listing is not likely. Yet two Asian unicorns announced their IPO in 2017 which gave the Asian sector hope. Sea Limited, formerly known as Garena, is a hosting platform for popular online games. The company raised USD 884 million in New York on initial public offering. Razer Ltd. is a leading marketer of computer and gaming equipment. The company raised around HKD 4.12 billion at the Hong Kong stock exchange on their IPO.
Larger money inflow
Startups are able to raise more money in their funding rounds nowadays. Unicorns are raising multibillion-dollar rounds. Some examples are Grab - USD 2.5 billion, which was recently followed by another USD 2 billion. Alibaba funded the e-commerce giant Lazada with USD 2 billion which resulted in a total investment of USD 4 billion.
When is The Best Time to Raise Funds for your Startup?
Reference list
MDEC, Southeast Asia 2018 Private Equity and Venture Capital Landscape Report
CB Insights, Venture Capital Funding Report Q3 2018, Available at https://www.cbinsights.com/research/report/venture-capital-q3-2018/
SVCA, Southeast Asia PE & VC: MAY 2018, Available at: https://www.svca.org.sg/editor/source/publication/research%20Publications/ southeast%20Asia%20PE%20%26%VC%20investments%20activity%20may%202018.pdf
Medium, Venture Capital in Asia: Landscape overview, available at: https://medium.com/@bluefuture/venture-capital-in-asia-lanscape-overview-1999ab168cc3
Learn more about venture capital
NEXEA provides Venture Capital funding for Startups from idea stages to pre-series A stages. We fund Startups in any industry, as long as there is a tech element to ensure your Startup is scalable. Find out more: