The investment opportunities and methods are growing globally but this article will be specifically taking note of investments in Malaysia. This article will be touching base on investment opportunities in Malaysia, investment with a high return in Malaysia, exploring a few opportunities for investments in Malaysia for students and much more
Investments in Malaysia
You don't need to be a millionaire to make money through smart investments. With the right information and mindset, you can leverage investment opportunities to increase both your wealth and your lifestyle. Taking a hypothetical situation, here is how you can invest your RM10,000 according to AIA:
Understand how much risk you are comfortable with. It is an individual decision to understand how much risk you are willing to take when looking for a return on your investment. It is recommended for investments in Malaysia, to establishing a safety net of up to six month's salary before entering into investments. This enables you more room to go after those bigger risk-reward investment options that can pay off big time in the long run.

Fixed Deposits (FD) offer a great low-risk option. If you put your money into a fixed deposit, you can find accounts paying around 3 – 4% interest rate. You can make your money work harder for you by making this simple switch.

Also note that fixed deposit investments in Malaysia are covered for up to RM 250,000 (source: Perbadanan Insurans Deposit Malaysia), making it a low-risk investment option offering steady returns. That said, fixed deposits still operate below inflation, so if you want to grow your wealth considerably, it may not be the best option.

Trading shares offers reward but at great risk. The epitome of the investment portfolio, buying shares and becoming a shareholder of a listed company offers the promise of great returns. The key is to find quality companies that are undervalued in the market. This could be start-ups that are just about to take off or struggling businesses with room to bounce back stronger.

Diversify your investment. If there is one rule to live by, it is that you should look to diversify your income streams so as not to be overly reliant upon one single stream. The same is true for your RM 10,000. Look to balance your low-level risk and riskier investments to ensure you are taking advantage of the benefits from all investment types. From the steady interest of fixed deposits to commodity trading, and investing in shares. By incorporating each into your overall investment portfolio, you will be better able to overcome any issues with a single investment item.
By exploring the investment options listed above, you will be well on your way to building your wealth. Although, as with anything wealth-related, markets and investments can fluctuate up, and down. So please, do seek consistent professional financial advice and do not solely rely upon this article for financial decisions.
Types of Investment Options in Malaysia
Options for investments in Malaysia can be assessed in many ways.
Unit Trust
A unit trust is simply a portfolio that is made up of shares, real estate, and bonds. The portfolio is then broken into units which are then sold to their customers with a profit. This is one of the options for investment in Malaysia. Maybank offers Unit Trusts, through buying units into the trust, your money will be pooled with that of other investors and invested according to the unit trust's objectives.
The purpose is to diversify your investment portfolio, achieve economies of scale as well as be able to tap into faraway markets. Unit trusts are offered via direct banking channels or via platforms like iFast or eUnitTrust, which, ironically can be 'cheaper' in terms of upfront costs (aka sales charge), most of the time.
Below is a short introduction to understanding what unit trusts are.
Angel Investors
Secondly, angel investors are quite active when it comes to investments in Malaysia. NEXEA's Angel Investors are valuable for startups in Malaysia because they are not as focused on monetary gains as traditional sources of funding. Instead, most angel investors have already achieved success in their careers and are now looking for ways to give back and support ideas and entrepreneurs.
The way NEXEA's Angel Investors works is, that startups and businesses that require investment send us your startup funding application via this form so that we can process your application as fast as possible. Our Venture Partners will attend to your application and get back to you within a week via email. We will usually call for an initial meeting to understand more about your Startup and then meet again with Investors if you are ready for funding. We will then proceed to negotiations and to draft the term sheet and make the investment.
Learn more about our Angel Investors Network and Portfolio here!
Are you an angel investor? For investment in Malaysia, if you are, you should register yourself as an Accredited Angel Investor with MBAN. You would then be eligible to enjoy a tax benefit amounting to RM 500,000 under the Angel Tax Incentive Programme. This would reduce the risk of angel investing which is high risk and high reward. You must fulfil the following criteria(s):
Either a high net worth individual (total wealth or net personal assets of RM3million and above or it's equivalent in foreign currencies)
Tax resident in Malaysia
A high-income earner (gross total annual income of not less than RM180,000 in the preceding 12 months; or RM250,000 jointly with one's spouse)
Bonds
Amongst all the options for investments in Malaysia, bonds are also considered one of them. The main reason that investors add bonds to their portfolios is to add variety. By diversifying your investments, you reduce the risk and improve the chances of a better return on your money because bonds are relatively low risk.
Keeping a mixed portfolio that includes bonds, stocks and cash as a base of investments is a good idea; if there is a downturn in a segment of the market you do not lose all of your wealth in one go.
For bond investments in Malaysia, you can buy almost any bond at your brokerage or local bank. Brokers charge a small commission or they may mark up the bond price instead – clarify this with your broker before confirming that you want to buy.
Fixed Deposits (FD)
Think of a fixed deposit as a time capsule for your money. Once you put your money in a fixed deposit account, you can't take it out until your agreed-upon tenure is ended. Fixed deposits offer a much higher interest rate than your average savings account - after your tenure ends
Generally, interest rates of fixed deposits in Malaysia range between 3% to 4%. Here is a table below on the updated interest rates updated as of February 2021.
| | |
| --- | --- |
| Bank | Interest Rate Offered |
| AffinBank FD | 4.05% p.a. |
| RHB Ordinary FD | 3.35% p.a |
| Alliance Bank FD | 3.35% p.a. |
| Maybank FD Account | 3.35% p.a. |
| CIMB Unfixed Deposit | 3.35% p.a. |
To start investments in Malaysia for FD's, all you need to do is sign up with the respective bank. Just remember that you'll need to make a minimum deposit - which can be from RM1,000 up to RM5,000 - depending on which bank you opt for.
Property
Other options for investments in Malaysia is property. According to iProperty, there are few steps involved in the due diligence process that an individual needs to go through. They are as follows:
Decide which type of property to invest in. Whether you are to invest in a residential or commercial property. Under this residential, the 4 popular options are Terrace house, Semi-Detach House, Detach house (bungalows) and High Rise or strata residential properties such as condominiums, serviced residences and apartments.

Investments in Malaysia's commercial units such as shop lots and office lots require a much bigger downpayment as these units are usually priced over RM1 million.

Are you planning for a short-term or a long-term investment? Long term investment, your "money" will be tied up for years. Considering you have the holding power to invest your monies for at least 5 years. Short term investment yield, you can think to buy to sell properties. In such cases, you will be cashing out your money within 2-3 years' time, sometimes even less.

In terms of property investments in Malaysia, do take note of the closing costs. The data below is provided by iProperty:
Legal Fee
| | |
| --- | --- |
| PRICE TIER | LEGAL FEE (% of property price) |
| First RM500,000 | 1% |
| Next 500,000 (RM500,001 – RM1 million) | 0.8% |
| Following RM2,000,000 (RM1,000,001 – RM3 million) | 0.7% |
| Next RM2,000,000 (RM3,000,001 – RM5 million) | 0.6% |
| Thereafter (> RM5 million) | 0.5% |
Legal Fee as of January 2020. Source: iProperty
Stamp Duty
| | |
| --- | --- |
| Property Purchase Price | Stamp Duty |
| For the first RM100,000 | 1.00% |
| RM101,000 – RM500,000 | 2.00% |
| RM501,000 – RM1000,000 | 3.00% |
| RM1,000,000 | 4.00% |
Stamp Duty as of January 2020. Source: iProperty
Why Malaysia?
There are many reasons why investments in Malaysia are considered a wise decision to be made.
Having built such a strong economic foundation, Malaysia is on track to achieve its vision of becoming a high-income country.
Its remarkable economic transformation has created a myriad of opportunities for the global business community to share the benefits. With the ASEAN Economic Community coming into fulfilment and Malaysia being strategically located, now is an opportune time for the greater global business community to join Malaysia's growth story, and capitalise on its potential as a gateway to a regional market of over 600 million people with a GDP of more than US$2 trillion.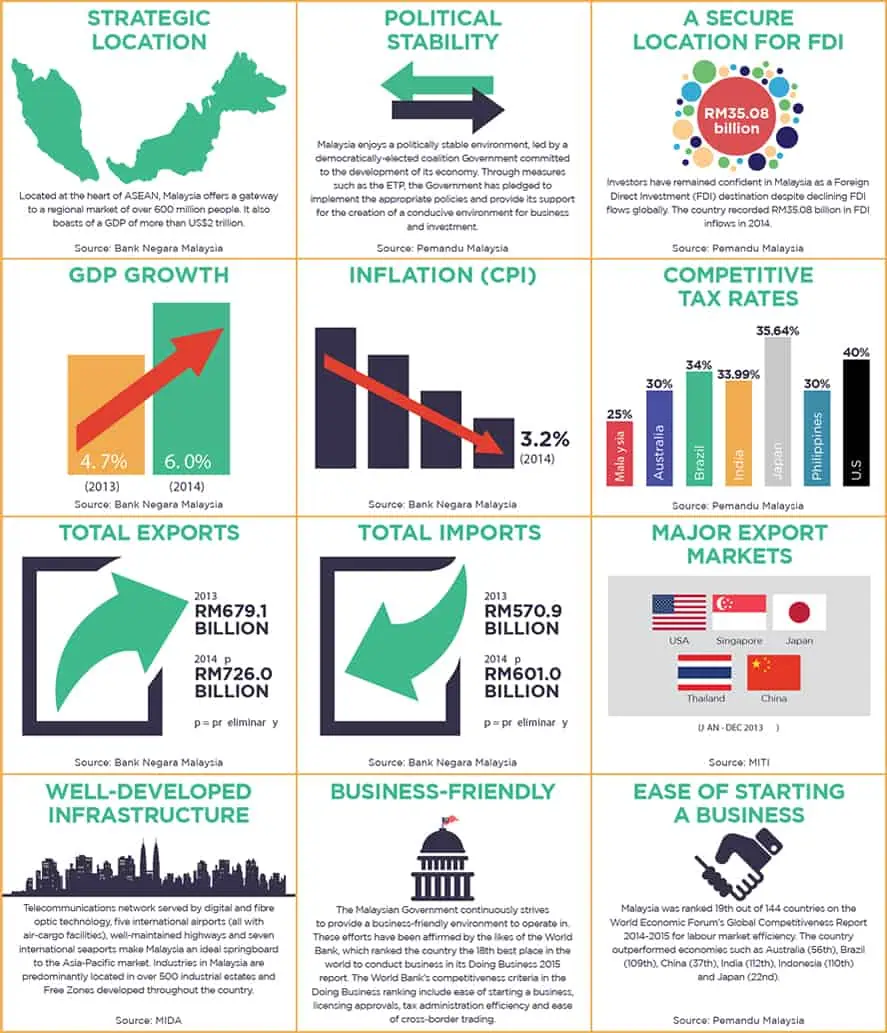 Malaysia has also been recognised as having the most developed and sophisticated ecosystem for the Islamic economy out of the 70 countries surveyed in Thomson Reuters' The State of Global Islamic Economy 2014/2015 Report. It tops four of the six sub-sectors including the higher weighted Islamic finance, halal food, halal tourism, and pharmaceuticals and cosmetics sectors.
To increase the number of investors in the country, the government has come up with some favorable policies. These include:
Access to government-sponsored industrial estates.
Grants and loans from government agencies.
A wide range of tax deductions.
Among the Asian emerging markets, investments in Malaysia have proved to be unique regarding comparative advantages.
Investments In Malaysia for Young Professionals
With the average starting salary for fresh graduates in Malaysia ranging between RM2,300 to RM2,500 combined with the rising cost of living, it comes as no surprise that there is a huge percentage of Gen-Y who are now stuck in a rat race. Research studies by Malaysian Digest have shown that millennials are earning less when compared to their parents at the same age. This leads them to think of putting in investments in Malaysia starting as early as they can.
To promote young professionals for investments in Malaysia, firms should not just tell them how investment reaps money but instead show them how compounding can help them turn time into money. To encourage professionals, an example used by Forbes is illustrated below:
It assumes a constant 8% return for two investors: one who starts early in life and one who starts 11 years later.
Investor #1 (blue line) starts investing $2,000 a year at age 19 through 27. Then she stops adding money to her account and just stays invested until age 65. Investor #2 (orange line), on the other hand, waits until she's 30 years old to start investing. She diligently invests $2,000 a year for the next 36 years. By age 65, she's contributed a total of $72,000 to her investments, and yet she ends up with less money than Investor #1 simply because she missed the opportunity to compound gains on 11 years of growth and contributions.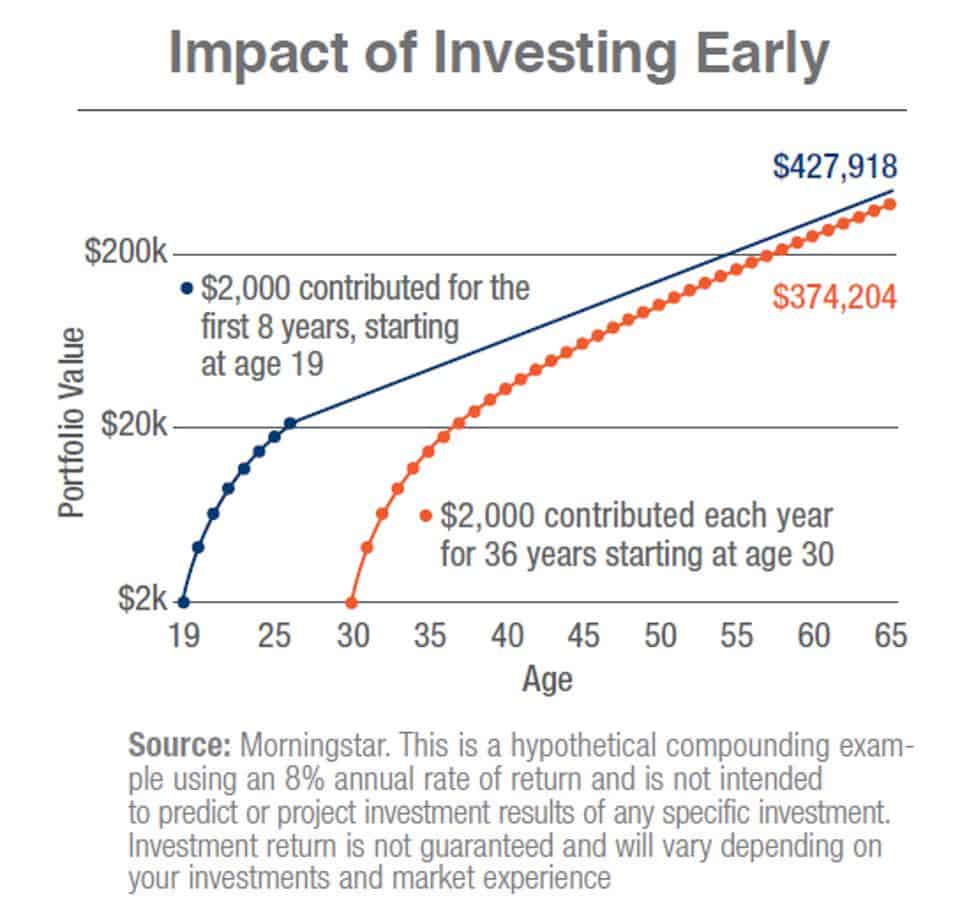 However, do take note that this is a hypothetical example only and investments in Malaysia may not always churn out the same result.
List of Investment Companies in Malaysia
An investment company is a business, which as the name suggest their core activity is investing and identifying investment opportunities. This term is quite broad. An investment company can invest in anything from real estate to stocks. But what are the requirements to be called an investment company?
An Investment company should always be operating with a fund of capital supplied by investors, making it a pooled fund of capital. Investment companies could be either publicly (traded on the stock market) or privately owned. Some investment companies are listed, most are not. There are three (3) types of investment companies: closed-end funds, mutual funds and Unit Investment Trusts
See our insight into the list of investment companies in Malaysia 2020
Other than angel investors, there are a lot of opportunities that investors can use to make investments in Malaysia. This includes other methods like venture capital, hedge funds and equity crowdfunding.
Venture capital – These forms of investments in Malaysia involves an investor who supplies money and guidance to a growing company in exchange for equity of the company.
Hedge funds – This is a pooled fund of capital managed by an investment expert, very similar to the three types of investment companies mentioned previously. Hedge funds, however, have a larger barrier to entry. The capital in hedge funds provided by one investor is usually a lot more than in an investment company.
Do's and Don'ts of Investing
There are pros and cons to all processes, investments in Malaysia particularly are no different. Investments in Malaysia come with their own set of dos and don'ts. However, do note that these restrictions and concerns are not only limited to investments in Malaysia but generally as well.
Do assess and educate yourself. Choose a financial advisor to guide you in the process, and also make sure he or she has adequate experience and knowledge about investing.

Do diversify. A diversified portfolio should not only be varied in its number of investments but also in types of investments. In the event that one or two of your stocks begin performing poorly, it may not affect your entire portfolio greatly. This is just one reason why your stock portfolio should be sufficiently diversified.
Don't speculate or over-estimate. You are likely to get unsolicited advice from stock trading sources. However, you should never invest blindly in free tips or recommendations, even if they do sound appealing. Trust your advisor to guide you in the right direction when it comes to investing decisions.
While investing, you should never take unnecessary risks, as your risk-reward should always be balanced. A good advisor will tell you that it's never a good move to invest all your money in hot stock to get a slightly higher return. On the contrary, safeguarding your money is just as important as getting high returns.
To Conclude
Investments in Malaysia offers a lot of options, from angel investments to FD's to investing in property. The ideal way to decide is to create your own checklist along with financial advisory from a professional consultant.
Your checklist should include, your preferred period for the investment, the amount, risk you are willing to take, the amount of money you are willing to input along with an advisory from your consultant on the better choice of investment for you.
References
HOW TO INVEST RM 10,000 (THE SMART WAY)
Investments in Malaysia: Maybank Unit Trusts
Stories abound of startup companies all around the globe, making it big and, in turn, making their investors extremely wealthy, this often makes one wonder how to invest in startups? Investing in a company at the very beginning of its lifecycle can prove to be very profitable. Often with great risk, comes great reward.
If you had invested just $10,000 in Amazon, Dell, Apple, or Microsoft, when they went IPO, you'd be a million dollars richer just from that investment according to the IPO Playbook.
What is a Startup?
Let us quickly run over the basics on how to invest in startups, starting with understanding the definition of a 'startup'. A startup refers to a company in the first stages of operations. Startups are founded by one or more entrepreneurs who want to develop a product or service for which they believe there is demand. These companies generally start with high costs and limited revenue, which is why they look for capital from a variety of sources.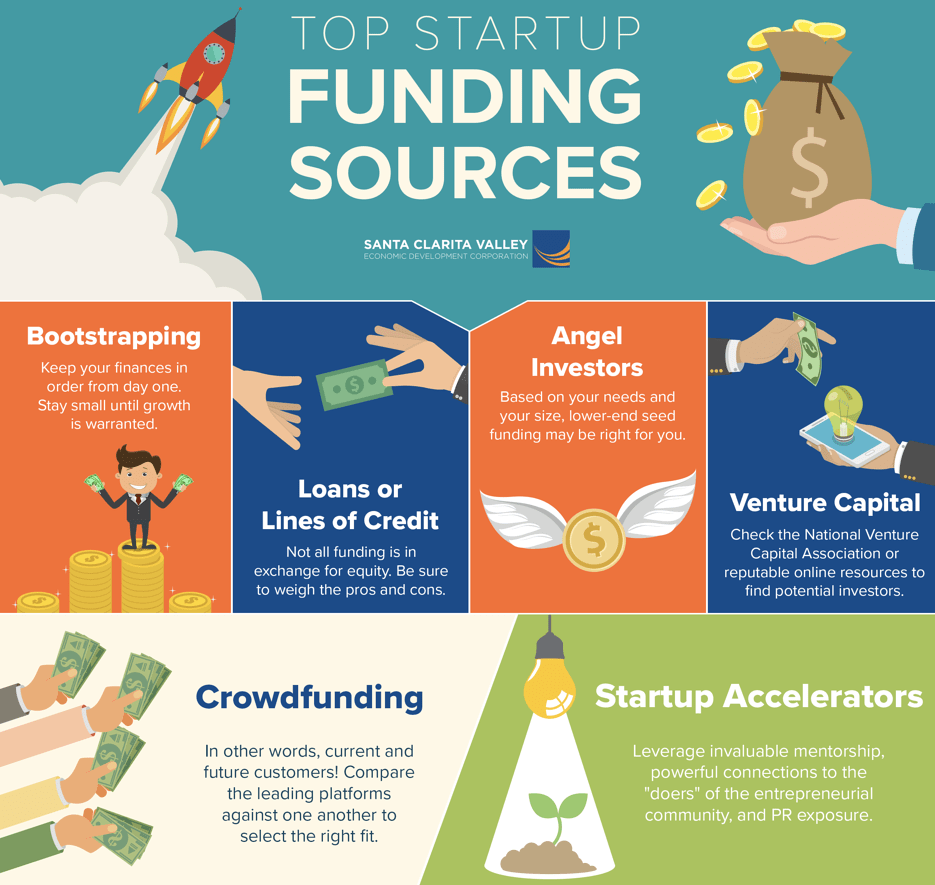 Understanding the components, nature and the business model of a startup before you decide to invest your money and time is important. There are a few special considerations that you need to consider when it comes to startups, this will make you decide when and how to invest in startups.
Location
Startups must decide whether their business is conducted online, in an office or home office, or in a store. The location depends on the product or service being offered. For example, a technology startup selling virtual reality hardware may need a physical storefront to give customers a face-to-face demonstration of the product's complex features.
In your decision to how to invest in startups, this is important for you to know where the startup plans to operate and what exactly will you be investing your money and time into. Whether it will be based offline or on an online-based platform.
Funding
There are many ways that startups are funded according to research by Santa Clarita Valley. In order to understand how to invest in startups, you first need to identify yourself and your source of funding to the startup amongst the following.
Read more on Startup Capital here!
How To Invest In Startups
How do you find startups to invest in? There are so many ways online to be able to find startups in your own country to invest in based on the number of finances that you have. The platforms listed below offer a sampling of the avenues available to anyone who wants to invest in a startup with limited funds. While it's unlikely that you'll become the next Silicon Valley billionaire, these platforms can help diversify your broader investment portfolio and give you the satisfaction of supporting a young company you believe in. How to find startup companies to invest it? The listed below platforms will be your aid into finding startups.
WeFunder. Wefunder has a stated goal of funding more than 20,000 startups by the year 2029. It hopes to do this by accepting investments of as little as $100 at a time. Through Wefunder, an average investor can inject capital into a wide range of companies. At last glance, it was accepting investments into dozens of companies including a fan-owned entertainment company, a vegan marketplace, a dog cancer cure, and a brewing company, answering the question of how to invest in startups and where to find them.

Seed Invest. SeedInvest is a crowdfunding platform that allows individuals insight on how to invest in startups, to invest in early-stage companies that have been pre-screened for potential viability. According to SeedInvest, less than 1% of companies that seek funding through the platform are accepted. The company claims it has more than 250,000 investors, with more than 150 companies successfully funded.

When you sign up for an account on SeedInvest, you are presented with a list of companies seeking money. Many companies are open to receiving investments from anyone, but some require large investments and are open only to accredited investors who had an income exceeding $200,000 in each of the past two years. You are provided with a "pre-money valuation" as well as the total value of funds being sought and the amount already raised. Each company has its own minimum investment requirement and a time by which the money needs to be raised.
From the perspective of companies and how to invest in startups, NEXEA offers startup support as well as investing in startups.
NEXEA Angel Investors. NEXEA Investors/Mentors seek investment opportunities in technology startups which can showcase revenue and potential future growth. NEXEA's Angel Investors are all experienced business owners and/or C-level professionals who are able to provide more than just funding for your startup. We also provide mentorship & support through industry experts & mentors.
The video below answers this question in more details adding to more questions in terms of how to invest in startups specifically.
Startup Investing Process
The startup investing process is part of our initial question to "How to Invest in Startups?". There are a few important steps that need to be done before the investing process begins.
Preliminary steps: preliminary steps include a business plan – a detailed case for your business, which will include your market research, any traction to date, financial forecasts, the amount of investment being sought, and for what. Pitch Deck – you will present and send this out as reading material, so prepare two versions tailored to your investors.

An executive Summary – this is the written 'elevator pitch' for your business. Investors should want to read more but not be left wondering what the core of the business is.
Due Diligence: Due diligence is the term given to the investigatory work done around a transaction such as investment where the investor conducts detailed research into the financial, corporate and contractual status of your company. Your investors will usually make a preliminary request for you to provide documents which will include: corporate information, budgets, forecasts, key supplier/customer contracts in place, employee-employment contracts, schedule of intellectual property, a schedule of property or leases, a list of equipment owned by the company, details of other investors, shareholders, and bank loans, any existing or future litigation, tax and VAT filings and insurance documentation, and, if applicable, your data protection policies.
Consider investing entity. Correct legal structure – it is worth noting that you can't give away shares in your business in exchange for investment monies unless you have a legal entity with shares, i.e. a private limited company. So, if at the moment you are operating as a sole trader, or you haven't started trading yet but intend to seek investment in the future, you will need to incorporate as a company and transfer all property owned by the 'business' into the company name.
Legal paperwork. Once terms have been agreed and the due diligence has been completed, your (or the investor's) solicitor will start to prepare the long-form documentation which will implement the funding arrangement. The following documentation will usually be involved: Shareholder's Agreement or Investment Agreement, Vesting Provisions, Subscription Agreement, Articles of Association etc.
Sign and release of documentation.

Once you have external investors, your accounts and bookkeeping will need to be in immaculate condition and completely up to date. You will probably also have reporting obligations as part of your investment terms so at any given time you may need to report on the financial health of the company.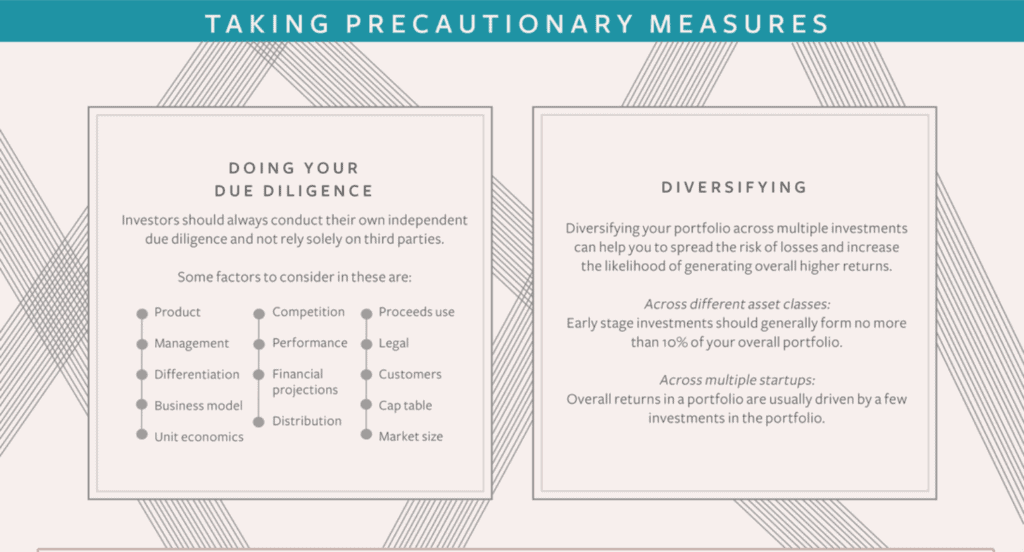 The process of how to invest in startups does not just start and end with funding only, there is a lot of 'behind the scenes' work and effort that goes into finding and investing in the methods of how to invest in startups.
Startup Investments in Malaysia
How to invest in startups in Malaysia? This section will be solving this problem for you if you are an investor or anyone looking for startups to invest in Malaysia.
Joining NEXEA's Angel Investor Club Malaysia as an angel investor gives you access to at least 1000+ companies per year to bring you about 3-10 quality investments each year. The companies are filtered via our proprietary Startup Fundamentals Methodology. Each startup has to pass our due diligence process, background checks, and investment committee.
NEXEA's Angels not only teach you how to invest in startups but they also consist of experienced businessmen who own multi-national business, and who have exited via a trade sale, or IPO, or are currently running a listed company. This knowledge is particularly useful for new Investors, we encourage members to share their Investment & Business Experiences. Increase the success rate of startup investment together.
The NEXEA Angel Investors Network is available in Malaysia to sophisticated investors that can support young Entrepreneurs running startups only. This group includes those who are either considered as a High Net Worth Individual or a High-Income Earner.
Also, see our insight on how startups get funding in Malaysia in detail.
Risks and Rewards of Investing in Startups
Is investing in startups a good idea? The answer to how to invest in startups might seem like an easy process, but there are risks and rewards associated with it. According to Investopedia:
Startup companies are in the idea phase and do not yet have a working product, customer base, or revenue stream.
Around 90% of startup companies funded will not make it to the initial public offering (IPO).
Investing in startup companies is a very risky business, but it can be very rewarding if the investments do pay off.
Several high-profile company success stories have proven that putting money into a startup is one of the few great ways to invest and reap high returns. Here's what motivates investors to put their money into startups:
Potential high profit. With good planning, startup investments can be very profitable. Pay attention to companies that provide solutions, bring value and develop new trends in the ever-evolving knowledge-based economy. All it takes is an original idea and a solid execution for a startup to become successful. There could be a huge return on your investment if you know the exact skill on how to invest in startups and understand how to grow them.

Diversification. Startups are an asset class that allows you to explore a different investment channel. Investments are risky and a diverse portfolio means you can minimize the possibilities of taking a big hit during a downturn.

Buy-out potential. Many startups are bought by large corporations that see them as a potential competitor or want to leverage the technology created by the startup. If the startup you invest in sells at a lucrative price, you'll enjoy great returns on your investment.
Even with their growth potential, startups are considered high-risk investments since only a small percentage succeeds. Consider these cons before you dig further into how to invest in startups:
High risk. As fruitful as it may be, you could invest in a company that never succeeds. Startup investments are high-risk and your return on investment depends on the new venture becoming a success. Some markets are extremely competitive or saturated and some business ideas simply don't work. Take the time to carefully analyze the company you're thinking about investing in to assess the chances of this startup.

Personality and attitude of the owner. You are a highly experienced investor with extensive knowledge of how to invest in startups but many angels and VC investors indicate that the personality and drive of the company founders are just as, or even more important than the business idea itself. Founders must have the skill, knowledge, and passion to carry them through periods of growing pains and discouragement.

They also have to be open to advise and constructive feedback from inside and outside the firm. The success of a startup partially depends on how hard the entrepreneur behind the idea is willing to work. To alleviate this risk, get to know the entrepreneur better, find out the history of their past business ventures.
In Conclusion
To conclude, the process of how to invest in startups goes beyond just financing methods. If you feel that startups are a good investment option for you, make sure you, as an investor take the time to look for good business startups and allocate a small percentage of your portfolio to this type of high-risk investment.
Investing in startups is an excellent opportunity for investors to expand their portfolio and contribute to an entrepreneur's success but investing in a startup is not foolproof. Even though a company may have strong cash flow projections, what looks good on paper may not translate to the real world. Taking the time to execute due diligence when researching a startup investment is something investors can't afford to skip.

Investopedia
References
Investing in Startups Without Being Wealthy
Initial Public Offering (IPO) Playbook
Investing in startups is trending, but the million-dollar question is why people tend to invest in startups, how to generate outsized returns through investing your money in a startup, are there any companies that specialise in funding and investing startups and the list doesn't end there.
Mature organisations of course have innovation agendas – whether they involve significant research and development budgets or corporate innovation frameworks – but often the core DNA of these cultures are missing. This is where startups step into the game.
Why Invest in Startups?
Investors and people choose to invest their money so at a later stage it either multiplies or grows in value. Many investors and people also tend to invest in startups rather than fully operational running companies. Before taking an investment decision, many investors and people tend to find statistics regarding the industry the startup is based in, or generally the success rate of previous records that have taken the leap to invest in startups.
Forbes identifies four reasons why people tend to invest in startups:
Potentially generating uncorrelated outsized returns and provides portfolio diversification.
Diversify. Investing in unique and creative startups will not only create a unique selling point in the product and service you are selling but also be able to diversify an investors portfolio. Diversification in investment will not only spread out the risk of loss but also create a wider scope of profit.
Networking. Startups are hyper-innovators driven by crazy ambition and insight. Being an early-stage investor in a startup is ideal for networking because you are closely linked to founders team and the company structure itself.
Craving to be involved in driving positive change, bringing new solutions to life. This is to be able to support the entrepreneurs' vision solely, empowering and boosting the confidence of the entrepreneurs as well as supporting small businesses.
Analyze The Startup
Before you actually dive deep to invest in startups, there is a criterion and a particular checklist that you need to go through in order to secure the investment decision.
How To Find The Right Startups To Invest In: A Checklist
So, you're ready to add to your investment portfolio. Now you're looking to learn how to find startups to invest in. Here's what you need to know to find your next investment.
Determine what kind of an investor you are. The two main types of investors that invest in startups; angel investors and venture capitalists. An angel investor usually has a high net worth and provides financial backing for small startups or entrepreneurs. A venture capitalist (VC) makes an investment that provides financial backing to firms with high growth potential in exchange for an equity stake.

If you prefer to work alone and at the start of a company, being an angel investor might be better for you, while those who work well with others should veer toward being a venture capitalist, as they work with a company. Alexis Ohanian, an entrepreneur and investor in Brooklyn, NY, best known as the co-founder and executive chair of Reddit, focuses on seed investments.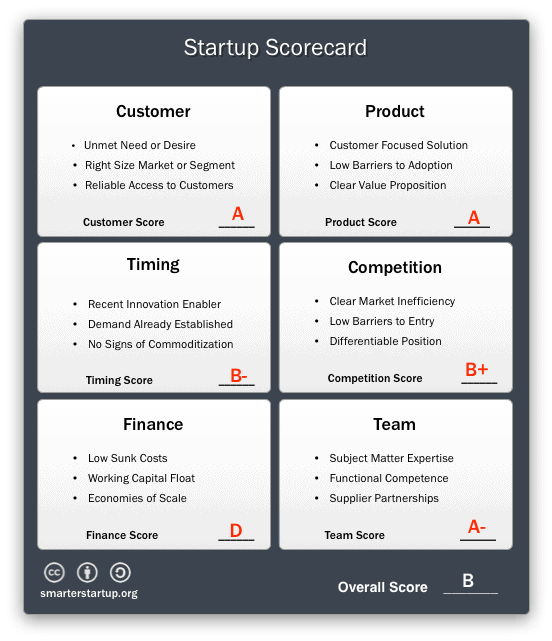 Perform investment analysis. Before making the decision to invest in startups, ask yourself the following qualitative questions: Is the founder financially invested in some way? Is there healthy chemistry and communication between the entrepreneur and yourself (the investor)? Does it have a sustainable competitive edge/advantage – in regard to the business model, brand, distribution, operations, patent ownership/intellectual property, unique ability to innovate, etc.? Does it solve a major problem or pain point in a big way?

The quantitative research shall include: consulting the numbers, key company statistics, and financial documents. They help disclose a business's performance, competitive positioning, and potential risks.
What are you looking for in a startup investment pitch? As an investor, before you invest in startups, it is important to scan through their investment pitch and see what the business is all about. This is a moment of truth for the startup, as you should be looking for several things throughout a pitch that will determine a "yes" or "no" to this investment. Ideally, the startup founder will be highly knowledgeable in the product's field, will know the company's toughest competitors, and be well-informed of the current industry climate and trends and this should reflect in an entrepreneurs pitch.

As an investor, you should look for whether the business has set realistic expectations for their current and future projections. Entrepreneurs should give you, the potential investor, exact amounts for their desired investments. They should also project the use of these funds in scaling the business. Additionally, they should review what they expect their ROI to be.

When determining how to find a startup to invest in, most investors will go straight to the product. A product prototype is crucial to your understanding of what customers will see and experience.

Visit our guide to The Pitch Deck Guide: The 12 Top Slides you Need to get tips and guidance in order to create the perfect investment pitch.
Investment Approach To Startups
Startups are hyper-innovators driven by crazy ambition and insight. What makes startup investing interesting compared to other investment classes is that often startups can't (and shouldn't) be able to provide the level of forecasting or comparable market data as other investment propositions.
These characteristics of startups affect the way that they are valued and types of data that investors look for before they invest in startups. Investing in startups, by default, requires a different approach, to which Bill Gross's 'Ted Talk' provides a great foundational overview. Here are a few things that are important to consider:
Gain a deep understanding, not only of the problem that the startup is solving but the driving factors to why that problem exists and why now is the time for a solution
Don't get fixated on financial forecasts. Understand the drivers to the startup's growth – and its customer acquisition
Invest alongside others – group investment and co-investment is a growing space for a reason
For most investors, startups comprise a small part of their overall portfolio for good reason. This is important for startups to note as well: You can't over communicate with your investors. Engage them in the right way, and they will be there through thick and thin.
How Much Should You Invest in Startups?
How much should one invest in startups? According to the U.S. Small Business Administration, most startups cost around $3,000 to begin, while most home-based franchises cost $2,000 to $5,000. It's important to understand the different types of costs you'll have as a new business.

Theoretically, it's good to take note of what costs are fixed, variable, essential or optional. But let's get concrete. Here's a shortlist of costs you'll likely have as a new business:
Web hosting and other website costs
Rental space for an office
Office furniture
Labour
Basic supplies
Basic technology
Insurance, license or permit fees
Advertising or promotions
Business plan costs
According to Business News Daily, below is an estimate of how much it costs to run a startup initially. This estimate should help you plan out your finances and understand the opportunities you have on hand to explain to investors who are keen to invest in startups.
| | | |
| --- | --- | --- |
| Item | Details | Estimated cost |
| Rent | Office space membership | $2,750 |
| Website | Design and hosting | $2,000 |
| Payroll | 5 employees with a $35K/year salary | $175,000 |
| Advertising/promotion | Digital ads cost | $5,000 |
| Basic office supplies | Paper, pens, etc. | $80 |
| Total (annualized) | -- | $184,830 |
** Above figures are a rough estimation only
Are Startups A Good Investment?: An Investor's Take
Entrepreneur-turned-angel investor Sanjay Mehta has been one of the most active angel investors in India, having participated in early rounds for over 137 startups in his personal capacity. Mehta also recently invested in 20 early-stage startups — out of a planned 100 — in December 2019, through his new venture fund 100X.VC. He is founder & partner at 100X.Venture Capital in Mumbai.
"One basic fundamental that every early-stage investor should know is that startups follow the law of power – a small per cent of the startups you invest in will give you the majority of your profits".

Sanjay Mehta, founder & partner at 100X.Venture
"Are startups a good investment?" Startups are high risk and high return investments, which follow the power of law. It is not about the number of hits you have, but the magnitude of those hits. That's where we find the answer to our question. The wealth creation opportunity that startup investments provide is nearly unparalleled. But it is also extremely risky, and conditional.
According to Sanjay Mehta's experience, you must be willing to invest in startups when one has the appetite and the capacity for the high risk involved. An investor with a mission to give first, help founders, and build a business will win this game. One must be capable of creating a significantly sized portfolio of investments in the hope that some of the investments are part of the six per cent and give one huge return.
One can create a startup portfolio by investing about five to ten per cent of their total investment capacity in such an illiquid asset class. It is worth noting that the money invested here must be thought of as a sunk cost – until and unless an exit is realised. The investors must be able to stay patient with their capital that they invest in startups – the best companies can give returns only after 10 years.
It is a great idea to invest in startups if you have access to the funds, the patience to wait for returns and commitment to nurturing the entrepreneur and the business itself. But an individual can invest in startups that can give unparalleled returns you hope for if they work out. To gain access to the top startups, one has to put in time and effort to become a part of the startup ecosystem, become a part of various investor networks, and collaborating with other lead investors and VC firms.
Companies That Invest in Startups
A tech startup is a company whose purpose is to bring technology products or services to market. These companies deliver new technology products or services or deliver existing technology products or services in new ways.
What Is A Tech Startup?
A tech startup is a company created to develop new technology-based products/services or to deliver existing tech-based products/services in new and interesting ways.
In order for a startup to become successful, it must establish itself as a leader within a particular industry, often referred to as "establishing market-share", or "achieving market domination." In more precision, a tech startup can be an organization formed to search for a repeatable and scalable business model, that is potentially producing and selling technological products – whether those are software, hardware or both. This does not make the process to invest in startups any different.
A newly founded startup must carefully select its target market and demographic to ensure it has a fair shot at establishing market-share. Often, founders will evaluate startup ideas based on the opportunities available within a given market.
NEXEA's Angel Investor Network is ideal for startups in Malaysia. Our Angel Investors Network provides startup investment opportunities to investors that are interested in high growth businesses. These are high risk & high return investment opportunities that should be part of any investor's portfolio as this is the segment of the portfolio that produces good ROI.
Testimonials by NEXEA Funded Startups
NEXEA's expertise is startup funding and knows and understands how to invest in startups. The testimonials by NEXEA funded startups like RunningMan, JomRun and Red Dino contribute to our list of successfully funded startups.
Click here to learn more about the benefits that startups reap through NEXEA funding. Also, view our Portfolio.
Invest In Tech Startups: GGV To Invest Further RM75m Into Malaysia Tech Startups
Golden Gate Ventures, a Singapore venture capital firm, announced the opening its Malaysian office in Kuala Lumpur in late 2018. Having already utilised a quarter of its Fund II in early-stage tech companies that are based in or operating in Malaysia, the firm now plans to invest another MYR75 million (US$18 million) to help back Malaysian based start-ups.
According to the company, Malaysia – as the second-most developed economy in ASEAN – noted that the country has strong fundamentals in place to sustainably grow its already-vigorous start-up scene, as it possesses the region's highest rate of initial public offerings (IPOs) as well as high digital penetration.
From Golden Gate Ventures Partner Justin Hall, this, alongside the nation's consistently growing economy, makes it a microcosm of the greater Southeast Asian economy.
"Malaysia is a natural market to expand to for startups. The domestic ecosystem itself is so large and diverse that businesses find an increasingly deep opportunity and a welcome market for their products and services" said Tee. "For Homage, we are looking at Malaysia to help support the local aged and meet their fast-growing care needs. We see the signs and opportunities for aged care solutions to grow sustainably with collaborative support from stakeholders across the private and public sector."

Gillian Tee, the CEO of Homage, explained that Golden Gate Ventures expansion into Malaysia has also coincided with her firm's own entry into the market
Malaysia is the third and latest location in Southeast Asia for Golden Gate Ventures, after Singapore and Indonesia. To date, the firm already has several innovative start-ups operating in Malaysia in its portfolio.
Malaysian Government Incentives During COVID-19
These incentives for tech startups come as a boost for Malaysian startups at the time of the new normal, says Finance Minister Tengku Datuk Seri Zafrul. It was introduced as part of the government's economic stimulus package to weather the impact of the Covid-19 pandemic on startups. It had attracted eight VC fund managers from the United States, South Korea, China, Indonesia and Singapore to invest in Malaysian startups as part of the RM1.2bil programme to help facilitate a growth path and a vibrant ecosystem for high-potential firms to thrive in.
On A Final Note
How you search and invest in startups is an important part of success. You don't want to spend years crisscrossing the country in search of investment opportunities without making any actual investments. Wherever possible you want to optimize the process and costs so that you make the process to invest in startups efficiently. How to invest in startups is only the initial stage however, what comes after is solely the responsibility and the autonomy lies within the entrepreneur.
References
GGV To Invest Further RM75m Into Malaysia Tech Startups
How To Invest In Startups And Make Money
https://thetractionstage.com/2018/10/08/a-startup-or-a-small-company-that-is-the-question/
https://www.slideshare.net/nealcabage/startupopportunityevaluation/65-Evaluate_your_startup_idea_across
This article will supply you with a list of investment companies in Malaysia. To understand the value of this list to a potential investor, a brief description of an investment company is mentioned as well as the different types of investment companies. Lastly, the main steps of investing are given and different opportunities to invest in.
What is an investment company?
An investment company is a business, which as the name suggest their core activity is investing and identifying investment opportunities. This term is quite broad. An investment company can invest in anything from real estate to stocks. But what are the requirements to be called an investment company?
An Investment company should always be operating with a fund of capital supplied by investors, making it a pooled fund of capital. Investment companies could be either publicly (traded on the stock market) or privately owned. Some investment companies are listed, most are not.
In most cases when mentioning an investment company. It is a company that makes a profit by buying and selling shares.
Three types of investment companies
The three types of investment companies are closed-end funds, mutual funds (open-end funds), and unit investments trusts. They all have different qualities which will be explained in this section of the article.
Closed-end funds
These investment companies are traded on the stock exchange. As it is a closed-end fund, there is a fixed number of shares outstanding. Which results in that trading these stocks do not have any influence on their portfolio.
Mutual fund
These companies have a floating number of shares. So, the fund can become larger and smaller, this depends on the amount of total capital invested. When there are more shares outstanding there is more capital put into the fund, therefore the fund is larger. This structure can be more complex for investment managers as they have to plan for the possibilities that investors want to get all their money back at a sudden.
Unit investment trusts
These investment companies are very similar to the mutual fund type. As these are like the mutual fund redeemable investment (shares). The main difference between the two is their legal structure. A mutual fund is a company, while unit investment trusts are not.
List of investment companies in Malaysia
Unit trust companies
AmChina A – Shares
Kenanga Growth Opportunities Fund
TA Global Technology Fund
Principal Global Tech Fund-MYR Hedged
Closed-end funds
TA Investment Management (Islamic fund)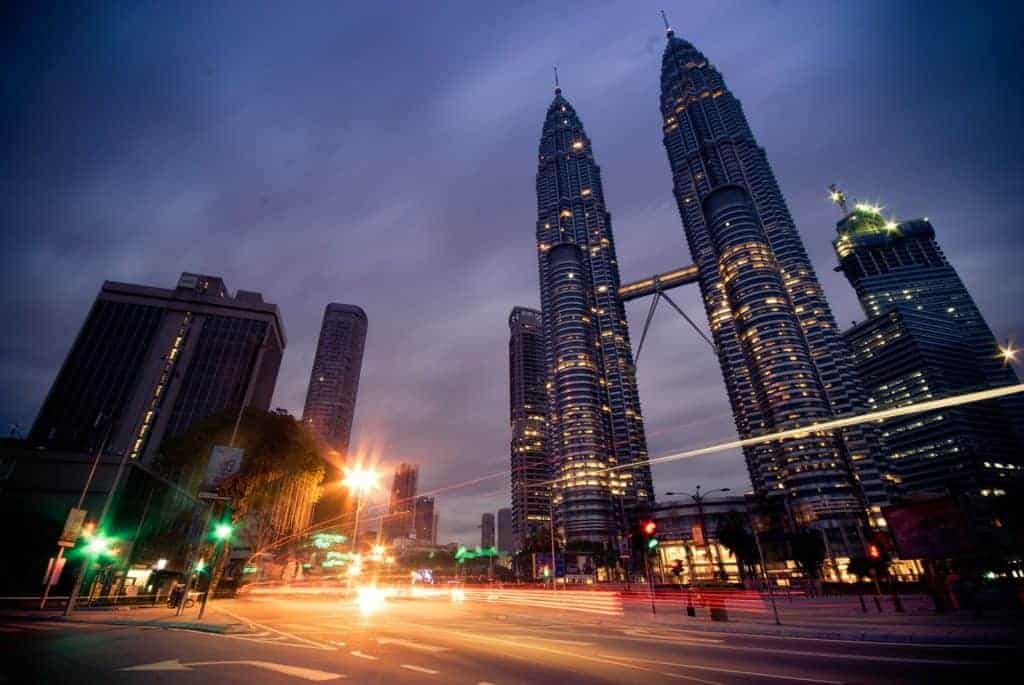 Steps to selecting an investment company
What are your goals?
It is important to know your goals in order to select the correct investment firm for you. Some may like a more defensive approach. Investors hope this will result in a lower return but a more stable return. Some investors pick the aggressive approach which consists of very risky investments, aiming for a high return in a small amount of time.
When do you require a return?
Some investors, invest to get a rerun in the long-run. This could be beneficial as returns are usually higher and more stable. However, most investors do not have a large sum of money available over a long period. Some unfortunate things may happen, for example, an unforeseen renovation or a broken car. That is why it is so important to predict your expenditures, and know when you require to have a return back on your investment.
Make an investment plan
This plan should consist of the previously discussed aspects, the risk you are willing to take and when you want a return. Furthermore, you should think about what industry you would like to invest in. When selecting an investment company find out in what industries they invest in, and whether or not this is suitable for you. The industry you want to invest in depends on your preference. Some are interested in green investments. While others focus on something completely different, like the automotive industry.
Diversify
In the case of an investment company, they make the choices for you. These investment companies have a very broad portfolio, so your investment should already be very diversified. However, do always consider investing in several investment companies as something unforeseen could always happen. For example, a scandal of the investment company.
How hands-on do you want to be?
This is not very applicable in an investment company as your investment is being handled by an investment expert. They will invest for you. However, if you would like to be more hands-on consider joining a venture capital or a hedge fund.
What are the charges?
Do they charge you management fees? This would not be the case with a listed company as you buy shares of them directly from the stock market. But unit trust companies could charge you fees. Ask yourself the question of what percentage you are willing to pay.
Other opportunities for investors
There are a lot of different ways to invest and a lot of different opportunities. For the purpose of this article, we want to provide you with four different methods of investing. These are venture capital, hedge funds, equity crowdfunding and lastly joining an angel investor network.
Venture capital – This type of investment involves an investor which supplies money and guidance to a growing company in exchange for equity of the company.
Hedge fund – This is a pooled fund of capital managed by an investment expert, very similar to the three types of investment companies in this article. Hedge funds, however, have a larger barrier to entry. The capital in hedge funds provided by one investor is usually a lot more than in an investment company.
Equity crowdfunding – This is a method for start-ups and growing companies to get capital in exchange for equity. The difference with VC is that there are a lot of investors involved who normally do not provide guidance.
Joining an angel investor network – Is very similar to VC however the guidance provided is far more intensive when being an angel investor. Also, the amount of capital is usually lower than the amount a VC will invest.
Learn more about NEXEA Venture Capital
references
Update January 31, 2019: Added a fundraising resource section below. Enjoy!
How To Find Investment For Your Startup
Most early-stage business founders have very high expectations and confidence when it comes to seeking investment. What they often do not understand is how to look from an investor's point of view. There are a lot of factors that can kill startups very early. That is why an average of only 20% is able to actually launch.
Besides a great plan and enthusiasm, what a startup needs after a while is capital. Often for the reasons to scale and grow their business. Without financing, startups cannot grow and never really take off. This is why business owners seek for financial back up from different sources which can be a slow and tough process.
Normally when entrepreneurs want to start a business they have some initial capital raised by either themselves or family and friends. Using this type of financing is called bootstrapping. Normally, this is relatively easy to obtain because also family and friends are more flexible than external sources.
It is of course very much recommended to start off like this. In later stages, it is good to fundraise. Not only for financing but also to gain strategical partners.
About how to find investment in later stages, you can read more in the following paragraphs.
Crowdfunding
Crowdfunding is an online platform on which you can present your business or project to a large pool of individuals for the purpose of raising money.
There are three types of crowdfunding which are: Donation-Based, Reward-Based and Equity-Based.
For Donation-Based crowdfunding, there is no financial return to the investors. Most of the organizations that can make use of this serve the purpose for disaster relief, charities, nonprofits, and medical bills.
People who invest in Reward-Based crowdfunding contribute with the fund in exchange for rewards. This normally is in the form of the product that the company offers. This method is quite popular because business owners do not have to give away anything in terms of money or equity and it still attracts investors. Think about an app designer who offers an early release to crowdfunding investors.
Investors of Equity-Based crowdfunding get equity in exchange for their input of capital and become shareholders with that. They also receive dividends when given out by the company.
Crowdfunding is not always preferred because the crowdfunding platforms take a percentage of the raised amount.
However, crowdfunding also brings some benefits. First of all the reach, through crowdfunding means that you can reach many different investors from anywhere in the world who can also share your campaign. Crowdfunding platforms are there to bring you more investors that you can't reach normally.
Secondly, by sharing your campaign on social media, newsletters, and other online marketing techniques, it really supports your HR & marketing. As media covers the progress of your fundraising, it can enhance the organic traffic to your website.
A third benefit is that many people take a look at your concept and give feedback on it. This gives you a clear view of what to improve and what people want to see. It can actually be seen as a way of validating.
Lastly, by seeking investment through a platform you streamline your fundraising efforts. That means that by building one profile you reach many investors which you do not have to approach one by one anymore. You have to spend less time on pitching for VC's or angels and it is more automized which saves you time.
Venture Capitalists (Growth Stage)
Venture Capital is provided by either individuals or from a professionally managed public or private firm. From individuals is however a rarity and it often comes from VC organisations.
They usually come in during the growth stage where Startups have large, growing revenues usually above a million a year.
How it works is they pool investment funds from investors and search for businesses to invest the money in. The aim is to provide the investors with a high rate of return.
Investing in startups is riskier than investing in, for example, the stock market. This means the potential return is also way higher for VC's. Since they generally invest in early stage, most startups will not even take off and die before launching. But when a startup takes off, the growth multiple can increase easily and fast.
This is the reason why VC's look for potential growth in a startup. In a lot of cases, attractive sectors to invest in are technology-related like software, biotech, fintech and others.
Venture capital can come with some drawbacks. They are especially influenced by the amount of equity they take. When VC's come in with a large amount, it means that they are likely to have a larger chunk of equity in the company. Normally, the bigger the amount of equity, the more they would want to be involved in the business which may affect your own motivation.
In the worst case, some VC's may even end up having more than 50% of your company which could make you lose management controll. Always be very careful and aware for this.
Venture Capital also comes with a lot of advantages which even can be stronger depending on the VC. Besides financial support, they can often also offer consultation with business decisions, think about HR, finances, tech or other strategies. From experience, we have seen how important and value-adding it actually is. It is something that is often underestimated.
Other than advice, VC's are typically well connected in the business community and can share connections who can support in other matters like legal, tax, technology and help in finding further investment.
Angel Investors (Early Stage)
Unlike VC's, angel investors invest their own money into startups. In general, angel investors are known for being less focussed on returns and find their satisfaction in helping entrepreneurs. Especially when they have entrepreneurial experience themselves.
Angel Investors play an important role in the Early Stage where more help is required than capital. Usually, Startups in early stage have little or no revenues, but are past developing the idea itself - but usually before VCs come in.
Anyone can be an angel investor. Most of the time they are people who have entrepreneurial experience and are interested in helping others. It can also be people who want to take risks in their investments and aim for higher returns.
This also creates a difference between whether they are affiliated and nonaffiliated. In other words, how much contact you have with them and if they are able to offer any kind of support.
Comparing to other investment sources, angels have some disadvantages. First of all, they differ in the investment size. They tend to invest more than 10,000 USD but not more than 500,000 USD. For early stage startups, this might be very suitable but as a company grows this option is probably not so attractive anymore.
Second important point is that they normally cannot always offer as much support as for example VC's or Angel Investment Networks like NEXEA. Individual Angel Investors are not as well connected in the market as organisations and can in most cases only offer some consultancy on business directions and decisions.
Benefits beside financial support are for example the access to the angel's knowledge and contacts. Depending on the angel, they can often come in with some help that may be useful.
The second benefit is that you do not have to take a loan from them which can be quite dangerous when it is from private individuals. Angels take equity which is likely to put you in a more comfortable position.
Find out more about angel investors: How to be an Angel Investor
Accelerator
Accelerator is a program that normally runs for 3-6 months. It depends on the organization till what stage they take you. Accelerators mostly offer a small investment together with active mentorship and other services. They help startups to validate the market and to grow rapidly. In most cases, they take equity in return for their services.
At the end of the program, they help you to find investment and consult you on strategical choices. Most of the time, they connect with investors within their network.
The application process differs per the accelerator. Some take every startup that applies, some create a competition in which only a few can qualify for the program, and some very carefully select the companies which they take in.
Services that accelerators provide for startups are generally: Mentorship, product development and testing, capital investment, support for finding further investment, networking and discounts with partners.
It is important to note that mentorship is a really important factor to consider. The stronger the mentor, the more it affects your Startups growth. Look out for business owners or C-levels that are well connected and are willing to invest and mentor.
Important to know before stepping into this is that they take equity and a lot of it is not for actual fund but for the services that are provided. It differs per accelerator how much they take and how much they can actually offer.
Bank Loans (Larger, Stable Companies)
Banking institutions can give out loans when entrepreneurs have a very solid business and/or cash flow. Often they want to see different things than what the mentioned above want to see.
An important difference to keep in mind is that investors get the return which is influenced by the growth and the bank wants to obtain the raised amount including interest. Different goals and different requirements have to be met.
One negative side to this approach is that there is a high risk of collateral loss. One big requirement for banks is that you can back up your loan with collateral. If you lose the money that the bank put in then they can take away collateral.
Positive sides are that entrepreneurs can get access to quite big amounts and do not have to give out equity in return. Still, as a startup, the risks are always high. Banks are more careful than investors because they are more risk-averse.
Startup Fundraising Tools and Resources
Fundraising is such an important thing that I strongly recommend to only hire experienced lawyers.
The good news today is that you can find more and more free templates online to save time such as (but you will still need to have a lawyer):
US-based Financing Documents
Although these are not really used in this region (and are legally not accepted), it is important to understand the principles of these documents.
We have legal documents for some countries in ASEAN including Malaysia and Singapore, so Startups that get funding from us do not need to create/find one.
Seed:
US - Y Combinator: http://bit.ly/2RXnXvN
US - 500 Startups: http://bit.ly/2FVHNBa
SG - Singapore Academy of Law and Singapore Venture Capital and Private Equity Association: http://bit.ly/2DIVP6R
Series A:
US - Y Combinator: http://bit.ly/2WqBIBD
FR - The Galion Project: http://bit.ly/2HFqBkX
Seed & Series A: - Simmonds Stewart: http://bit.ly/2CR9xTA
Real term sheets:
- PixelMe's Seed Round: http://bit.ly/2Uretp8
- Buffer's Series A: http://bit.ly/2WvNJpp
A great mapping of funding terms
by Simmonds Stewart: http://bit.ly/2SfGgf1
Two articles to read before fundraising
by First Round Capital:
- Mathilde Collin: http://bit.ly/2SrG1dr more about Mathilde's great publications: http://bit.ly/2S7fw0j
- Kevin Ryan: http://bit.ly/2TzL5N9
Reference:
Arnaud Bonzom, available at https://www.linkedin.com/feed/update/urn:li:activity:6496188385550532608/
Reference list
Cleveroad, How to Find Investors for Your Business Idea: Full Guide for Startups, available at https://www.cleveroad.com/blog/how-to-get-funding-for-a-startup-step-by-step-guide-from-cleveroad
Entrepreneur, Angel investor, available at https://www.entrepreneur.com/encyclopedia/angel-investor
Finextra, 10 Funding Options To Raise Startup Capital For Your Business, available at https://www.finextra.com/blogposting/15065/10-funding-options-to-raise-startup-capital-for-your-business
Fundable, What is crowdfunding?, available at https:https://www.fundable.com/learn/resources/guides/crowdfunding/what-is-crowdfunding
NIBusinessInfo, Business Angels, available at https://www.nibusinessinfo.co.uk/content/advantages-and-disadvantages-business-angel-funding
Startacus admin, Startacus, The Pros and Cons of Startup Accelerators, available at https://startacus.net/culture/the-pros-and-cons-of-startup-accelerators/page/1#.XEbQy1wzbIU
Susan Ward, Small Business, What Is a Venture Capitalist?, available at https://www.thebalancesmb.com/what-is-a-venture-capitalist-2947071
The Hartford, Business Owner's Playbook, How to Finance Your Business Growth, available at https://www.thehartford.com/business-playbook/in-depth/venture-capital
The Startup, Startup Funding: How to Get Money For An Early-Stage Startup, available at https://medium.com/swlh/follow-the-money-how-to-get-startup-funding-4dffa15ef415
Tricia Levasseur, Medium, This is the Biggest Benefit Accelerators Offer Startups, available at https://medium.com/@cambridgetricia/the-biggest-benefit-accelerators-offer-startups-3e246ac4ef03