The investment opportunities and methods are growing globally but this article will be specifically taking note of investments in Malaysia. This article will be touching base on investment opportunities in Malaysia, investment with a high return in Malaysia, exploring a few opportunities for investments in Malaysia for students and much more
Investments in Malaysia
You don't need to be a millionaire to make money through smart investments. With the right information and mindset, you can leverage investment opportunities to increase both your wealth and your lifestyle. Taking a hypothetical situation, here is how you can invest your RM10,000 according to AIA:
Understand how much risk you are comfortable with. It is an individual decision to understand how much risk you are willing to take when looking for a return on your investment. It is recommended for investments in Malaysia, to establishing a safety net of up to six month's salary before entering into investments. This enables you more room to go after those bigger risk-reward investment options that can pay off big time in the long run.

Fixed Deposits (FD) offer a great low-risk option. If you put your money into a fixed deposit, you can find accounts paying around 3 – 4% interest rate. You can make your money work harder for you by making this simple switch.

Also note that fixed deposit investments in Malaysia are covered for up to RM 250,000 (source: Perbadanan Insurans Deposit Malaysia), making it a low-risk investment option offering steady returns. That said, fixed deposits still operate below inflation, so if you want to grow your wealth considerably, it may not be the best option.

Trading shares offers reward but at great risk. The epitome of the investment portfolio, buying shares and becoming a shareholder of a listed company offers the promise of great returns. The key is to find quality companies that are undervalued in the market. This could be start-ups that are just about to take off or struggling businesses with room to bounce back stronger.

Diversify your investment. If there is one rule to live by, it is that you should look to diversify your income streams so as not to be overly reliant upon one single stream. The same is true for your RM 10,000. Look to balance your low-level risk and riskier investments to ensure you are taking advantage of the benefits from all investment types. From the steady interest of fixed deposits to commodity trading, and investing in shares. By incorporating each into your overall investment portfolio, you will be better able to overcome any issues with a single investment item.
By exploring the investment options listed above, you will be well on your way to building your wealth. Although, as with anything wealth-related, markets and investments can fluctuate up, and down. So please, do seek consistent professional financial advice and do not solely rely upon this article for financial decisions.
Types of Investment Options in Malaysia
Options for investments in Malaysia can be assessed in many ways.
Unit Trust
A unit trust is simply a portfolio that is made up of shares, real estate, and bonds. The portfolio is then broken into units which are then sold to their customers with a profit. This is one of the options for investment in Malaysia. Maybank offers Unit Trusts, through buying units into the trust, your money will be pooled with that of other investors and invested according to the unit trust's objectives.
The purpose is to diversify your investment portfolio, achieve economies of scale as well as be able to tap into faraway markets. Unit trusts are offered via direct banking channels or via platforms like iFast or eUnitTrust, which, ironically can be 'cheaper' in terms of upfront costs (aka sales charge), most of the time.
Below is a short introduction to understanding what unit trusts are.
Angel Investors
Secondly, angel investors are quite active when it comes to investments in Malaysia. NEXEA's Angel Investors are valuable for startups in Malaysia because they are not as focused on monetary gains as traditional sources of funding. Instead, most angel investors have already achieved success in their careers and are now looking for ways to give back and support ideas and entrepreneurs.
The way NEXEA's Angel Investors works is, that startups and businesses that require investment send us your startup funding application via this form so that we can process your application as fast as possible. Our Venture Partners will attend to your application and get back to you within a week via email. We will usually call for an initial meeting to understand more about your Startup and then meet again with Investors if you are ready for funding. We will then proceed to negotiations and draft the term sheet and make the investment.
Learn more about our Angel Investors Network and Portfolio here!
Are you an angel investor? For investment in Malaysia, if you are, you should register yourself as an Accredited Angel Investor with MBAN. You would then be eligible to enjoy a tax benefit amounting to RM 500,000 under the Angel Tax Incentive Programme. This would reduce the risk of angel investing which is high risk and high reward. You must fulfil the following criteria(s):
Either a high net worth individual (total wealth or net personal assets of RM3million and above or it's equivalent in foreign currencies)
Tax resident in Malaysia
A high-income earner (gross total annual income of not less than RM180,000 in the preceding 12 months; or RM250,000 jointly with one's spouse)
Bonds
Amongst all the options for investments in Malaysia, bonds are also considered one of them. The main reason that investors add bonds to their portfolios is to add variety. By diversifying your investments, you reduce the risk and improve the chances of a better return on your money because bonds are relatively low risk.
Keeping a mixed portfolio that includes bonds, stocks and cash as a base of investments is a good idea; if there is a downturn in a segment of the market you do not lose all of your wealth in one go.
For bond investments in Malaysia, you can buy almost any bond at your brokerage or local bank. Brokers charge a small commission or they may mark up the bond price instead – clarify this with your broker before confirming that you want to buy.
Fixed Deposits (FD)
Think of a fixed deposit as a time capsule for your money. Once you put your money in a fixed deposit account, you can't take it out until your agreed-upon tenure is ended. Fixed deposits offer a much higher interest rate than your average savings account - after your tenure ends
Generally, interest rates of fixed deposits in Malaysia range between 3% to 4%. Here is a table below on the updated interest rates updated as of February 2021.
| | |
| --- | --- |
| Bank | Interest Rate Offered |
| AffinBank FD | 4.05% p.a. |
| RHB Ordinary FD | 3.35% p.a |
| Alliance Bank FD | 3.35% p.a. |
| Maybank FD Account | 3.35% p.a. |
| CIMB Unfixed Deposit | 3.35% p.a. |
To start investments in Malaysia for FD's, all you need to do is sign up with the respective bank. Just remember that you'll need to make a minimum deposit - which can be from RM1,000 up to RM5,000 - depending on which bank you opt for.
Property
Another option for investments in Malaysia is property. According to iProperty, there are a few steps involved in the due diligence process that an individual needs to go through. They are as follows:
Decide which type of property to invest in. Whether you are to invest in a residential or commercial property. Under this residential, the 4 popular options are Terrace house, Semi-Detach House, Detach house (bungalows) and High Rise or strata residential properties such as condominiums, serviced residences and apartments.

Investments in Malaysia's commercial units such as shop lots and office lots require a much bigger downpayment as these units are usually priced over RM1 million.

Are you planning for a short-term or a long-term investment? Long term investment, your "money" will be tied up for years. Considering you have the holding power to invest your monies for at least 5 years. Short term investment yield, you can think to buy to sell properties. In such cases, you will be cashing out your money within 2-3 years' time, sometimes even less.

In terms of property investments in Malaysia, do take note of the closing costs. The data below is provided by iProperty:
Legal Fee
| | |
| --- | --- |
| PRICE TIER | LEGAL FEE (% of property price) |
| First RM500,000 | 1% |
| Next 500,000 (RM500,001 – RM1 million) | 0.8% |
| Following RM2,000,000 (RM1,000,001 – RM3 million) | 0.7% |
| Next RM2,000,000 (RM3,000,001 – RM5 million) | 0.6% |
| Thereafter (> RM5 million) | 0.5% |
Legal Fee as of January 2020. Source: iProperty
Stamp Duty
| | |
| --- | --- |
| Property Purchase Price | Stamp Duty |
| For the first RM100,000 | 1.00% |
| RM101,000 – RM500,000 | 2.00% |
| RM501,000 – RM1000,000 | 3.00% |
| RM1,000,000 | 4.00% |
Stamp Duty as of January 2020. Source: iProperty
Why Malaysia?
There are many reasons why investments in Malaysia are considered a wise decision to be made.
Having built such a strong economic foundation, Malaysia is on track to achieve its vision of becoming a high-income country.
Its remarkable economic transformation has created a myriad of opportunities for the global business community to share the benefits. With the ASEAN Economic Community coming into fulfilment and Malaysia being strategically located, now is an opportune time for the greater global business community to join Malaysia's growth story, and capitalise on its potential as a gateway to a regional market of over 600 million people with a GDP of more than US$2 trillion.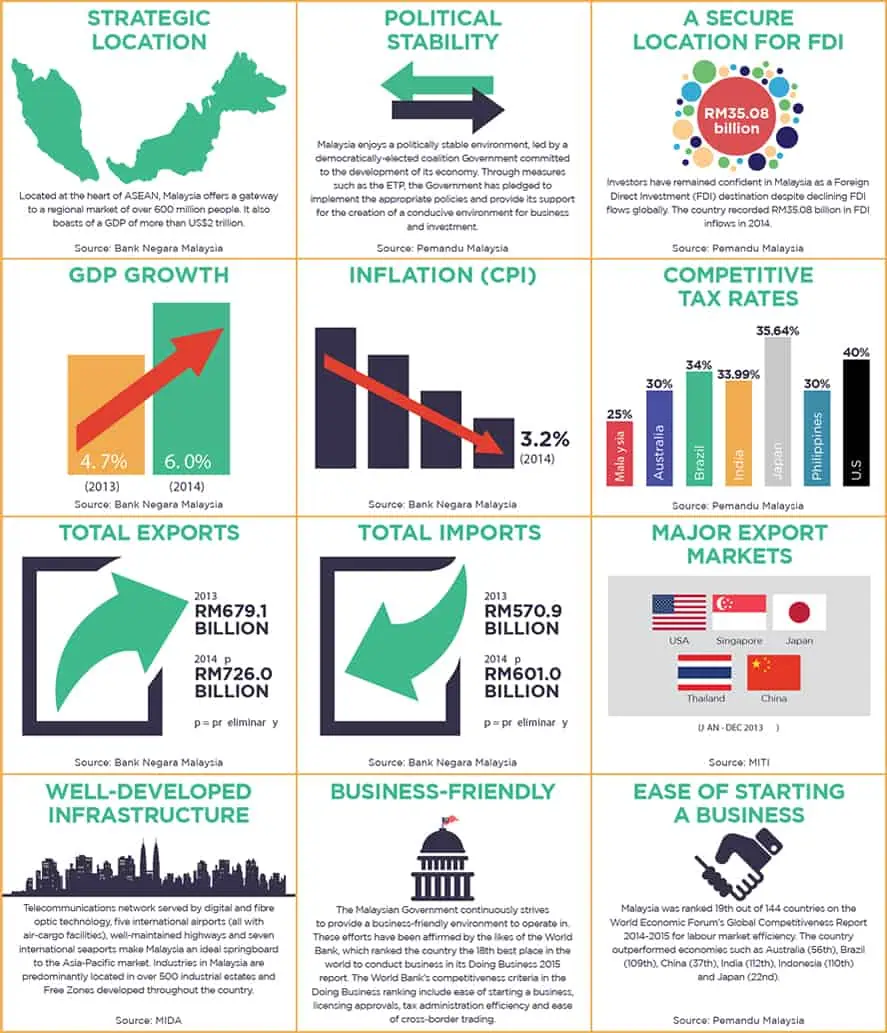 Malaysia has also been recognised as having the most developed and sophisticated ecosystem for the Islamic economy out of the 70 countries surveyed in Thomson Reuters' The State of Global Islamic Economy 2014/2015 Report. It tops four of the six sub-sectors including the higher weighted Islamic finance, halal food, halal tourism, and pharmaceuticals and cosmetics sectors.
To increase the number of investors in the country, the government has come up with some favourable policies. These include: 
Access to government-sponsored industrial estates.
Grants and loans from government agencies.
A wide range of tax deductions.
Among the Asian emerging markets, investments in Malaysia have proved to be unique regarding comparative advantages.
Investments In Malaysia for Young Professionals
With the average starting salary for fresh graduates in Malaysia ranging from RM2,300 to RM2,500 combined with the rising cost of living, it comes as no surprise that there is a huge percentage of Gen-Y who are now stuck in a rat race. Research studies by Malaysian Digest have shown that millennials are earning less when compared to their parents at the same age. This leads them to think of putting in investments in Malaysia starting as early as they can.
To promote young professionals for investments in Malaysia, firms should not just tell them how investment reaps money but instead show them how compounding can help them turn time into money. To encourage professionals, an example used by Forbes is illustrated below:
It assumes a constant 8% return for two investors: one who starts early in life and one who starts 11 years later.
Investor #1 (blue line) starts investing $2,000 a year at age 19 through 27. Then she stops adding money to her account and just stays invested until age 65. Investor #2 (orange line), on the other hand, waits until she's 30 years old to start investing. She diligently invests $2,000 a year for the next 36 years. By age 65, she's contributed a total of $72,000 to her investments, and yet she ends up with less money than Investor #1 simply because she missed the opportunity to compound gains on 11 years of growth and contributions.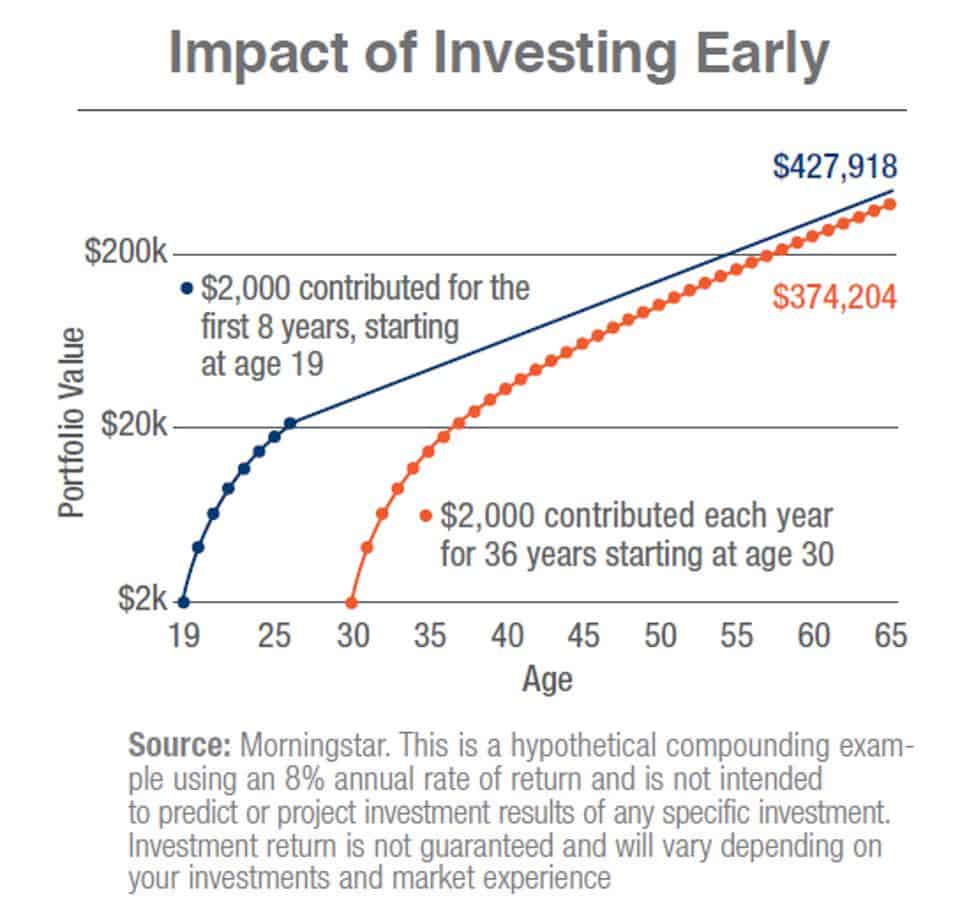 However, do take note that this is a hypothetical example only and investments in Malaysia may not always churn out the same result.
List of Investment Companies in Malaysia
An investment company is a business, which as the name suggest their core activity is investing and identifying investment opportunities. This term is quite broad. An investment company can invest in anything from real estate to stocks. But what are the requirements to be called an investment company?
An Investment company should always be operating with a fund of capital supplied by investors, making it a pooled fund of capital. Investment companies could be either publicly (traded on the stock market) or privately owned. Some investment companies are listed, most are not. There are three (3) types of investment companies: closed-end funds, mutual funds and Unit Investment Trusts
See our insight into the list of investment companies in Malaysia 2020
Other than angel investors, there are a lot of opportunities that investors can use to make investments in Malaysia. This includes other methods like venture capital, hedge funds and equity crowdfunding.
Venture capital – These forms of investments in Malaysia involves an investor who supplies money and guidance to a growing company in exchange for the equity of the company.
Hedge funds – This is a pooled fund of capital managed by an investment expert, very similar to the three types of investment companies mentioned previously. Hedge funds, however, have a larger barrier to entry. The capital in hedge funds provided by one investor is usually a lot more than in an investment company.
Do's and Don'ts of Investing
There are pros and cons to all processes, investments in Malaysia particularly are no different. Investments in Malaysia come with their own set of dos and don'ts. However, do note that these restrictions and concerns are not only limited to investments in Malaysia but generally as well.
Do assess and educate yourself. Choose a financial advisor to guide you in the process, and also make sure he or she has adequate experience and knowledge about investing.

Do diversify. A diversified portfolio should not only be varied in its number of investments but also in types of investments. In the event that one or two of your stocks begin performing poorly, it may not affect your entire portfolio greatly. This is just one reason why your stock portfolio should be sufficiently diversified.
Don't speculate or over-estimate. You are likely to get unsolicited advice from stock trading sources. However, you should never invest blindly in free tips or recommendations, even if they do sound appealing. Trust your advisor to guide you in the right direction when it comes to investing decisions.
While investing, you should never take unnecessary risks, as your risk-reward should always be balanced. A good advisor will tell you that it's never a good move to invest all your money in hot stock to get a slightly higher return. On the contrary, safeguarding your money is just as important as getting high returns.
To Conclude
Investments in Malaysia offers a lot of options, from angel investments to FD's to investing in property. The ideal way to decide is to create your own checklist along with a financial advisor from a professional consultant.
Your checklist should include, your preferred period for the investment, the amount, risk you are willing to take, the amount of money you are willing to input along with an advisory from your consultant on the better choice of investment for you.
References
HOW TO INVEST RM 10,000 (THE SMART WAY)