Investing in startups is trending, but the million-dollar question is why people tend to invest in startups, how to generate outsized returns through investing your money in a startup, are there any companies that specialise in funding and investing startups and the list doesn't end there.
Mature organisations of course have innovation agendas – whether they involve significant research and development budgets or corporate innovation frameworks – but often the core DNA of these cultures are missing. This is where startups step into the game.
Why Invest in Startups?
Investors and people choose to invest their money so at a later stage it either multiplies or grows in value. Many investors and people also tend to invest in startups rather than fully operational running companies. Before taking an investment decision, many investors and people tend to find statistics regarding the industry the startup is based in, or generally the success rate of previous records that have taken the leap to invest in startups.
Forbes identifies four reasons why people tend to invest in startups:
Potentially generating uncorrelated outsized returns and provides portfolio diversification.
Diversify. Investing in unique and creative startups will not only create a unique selling point in the product and service you are selling but also be able to diversify an investors portfolio. Diversification in investment will not only spread out the risk of loss but also create a wider scope of profit.
Networking. Startups are hyper-innovators driven by crazy ambition and insight. Being an early-stage investor in a startup is ideal for networking because you are closely linked to founders team and the company structure itself.
Craving to be involved in driving positive change, bringing new solutions to life. This is to be able to support the entrepreneurs' vision solely, empowering and boosting the confidence of the entrepreneurs as well as supporting small businesses.
Analyze The Startup
Before you actually dive deep to invest in startups, there is a criterion and a particular checklist that you need to go through in order to secure the investment decision.
How To Find The Right Startups To Invest In: A Checklist
So, you're ready to add to your investment portfolio. Now you're looking to learn how to find startups to invest in. Here's what you need to know to find your next investment.
Determine what kind of an investor you are. The two main types of investors that invest in startups; angel investors and venture capitalists. An angel investor usually has a high net worth and provides financial backing for small startups or entrepreneurs. A venture capitalist (VC) makes an investment that provides financial backing to firms with high growth potential in exchange for an equity stake.

If you prefer to work alone and at the start of a company, being an angel investor might be better for you, while those who work well with others should veer toward being a venture capitalist, as they work with a company. Alexis Ohanian, an entrepreneur and investor in Brooklyn, NY, best known as the co-founder and executive chair of Reddit, focuses on seed investments.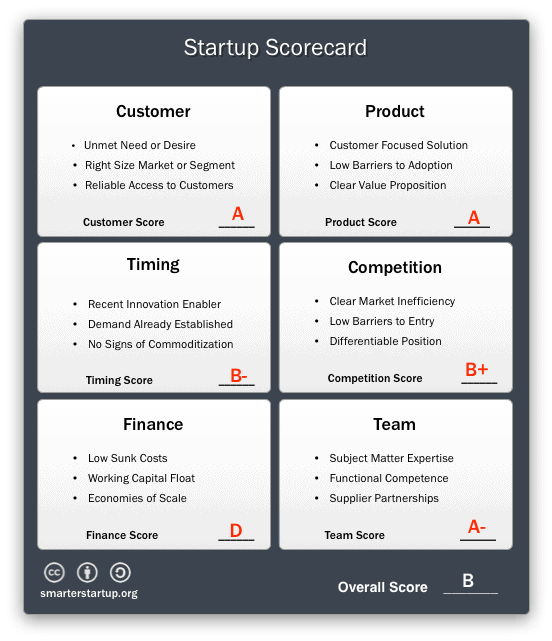 Perform investment analysis. Before making the decision to invest in startups, ask yourself the following qualitative questions: Is the founder financially invested in some way? Is there healthy chemistry and communication between the entrepreneur and yourself (the investor)? Does it have a sustainable competitive edge/advantage – in regard to the business model, brand, distribution, operations, patent ownership/intellectual property, unique ability to innovate, etc.? Does it solve a major problem or pain point in a big way?

The quantitative research shall include: consulting the numbers, key company statistics, and financial documents. They help disclose a business's performance, competitive positioning, and potential risks.
What are you looking for in a startup investment pitch? As an investor, before you invest in startups, it is important to scan through their investment pitch and see what the business is all about. This is a moment of truth for the startup, as you should be looking for several things throughout a pitch that will determine a "yes" or "no" to this investment. Ideally, the startup founder will be highly knowledgeable in the product's field, will know the company's toughest competitors, and be well-informed of the current industry climate and trends and this should reflect in an entrepreneurs pitch.

As an investor, you should look for whether the business has set realistic expectations for their current and future projections. Entrepreneurs should give you, the potential investor, exact amounts for their desired investments. They should also project the use of these funds in scaling the business. Additionally, they should review what they expect their ROI to be.

When determining how to find a startup to invest in, most investors will go straight to the product. A product prototype is crucial to your understanding of what customers will see and experience.

Visit our guide to The Pitch Deck Guide: The 12 Top Slides you Need to get tips and guidance in order to create the perfect investment pitch.
Investment Approach To Startups
Startups are hyper-innovators driven by crazy ambition and insight. What makes startup investing interesting compared to other investment classes is that often startups can't (and shouldn't) be able to provide the level of forecasting or comparable market data as other investment propositions.
These characteristics of startups affect the way that they are valued and types of data that investors look for before they invest in startups. Investing in startups, by default, requires a different approach, to which Bill Gross's 'Ted Talk' provides a great foundational overview. Here are a few things that are important to consider:
Gain a deep understanding, not only of the problem that the startup is solving but the driving factors to why that problem exists and why now is the time for a solution
Don't get fixated on financial forecasts. Understand the drivers to the startup's growth – and its customer acquisition
Invest alongside others – group investment and co-investment is a growing space for a reason
For most investors, startups comprise a small part of their overall portfolio for good reason. This is important for startups to note as well: You can't over communicate with your investors. Engage them in the right way, and they will be there through thick and thin.
How Much Should You Invest in Startups?
How much should one invest in startups? According to the U.S. Small Business Administration, most startups cost around $3,000 to begin, while most home-based franchises cost $2,000 to $5,000. It's important to understand the different types of costs you'll have as a new business.

Theoretically, it's good to take note of what costs are fixed, variable, essential or optional. But let's get concrete. Here's a shortlist of costs you'll likely have as a new business:
Web hosting and other website costs
Rental space for an office
Office furniture
Labour
Basic supplies
Basic technology
Insurance, license or permit fees
Advertising or promotions
Business plan costs
According to Business News Daily, below is an estimate of how much it costs to run a startup initially. This estimate should help you plan out your finances and understand the opportunities you have on hand to explain to investors who are keen to invest in startups.
| | | |
| --- | --- | --- |
| Item | Details | Estimated cost |
| Rent | Office space membership | $2,750 |
| Website | Design and hosting | $2,000 |
| Payroll | 5 employees with a $35K/year salary | $175,000 |
| Advertising/promotion | Digital ads cost | $5,000 |
| Basic office supplies | Paper, pens, etc. | $80 |
| Total (annualized) | -- | $184,830 |
** Above figures are a rough estimation only
Are Startups A Good Investment?: An Investor's Take
Entrepreneur-turned-angel investor Sanjay Mehta has been one of the most active angel investors in India, having participated in early rounds for over 137 startups in his personal capacity. Mehta also recently invested in 20 early-stage startups — out of a planned 100 — in December 2019, through his new venture fund 100X.VC. He is founder & partner at 100X.Venture Capital in Mumbai.
"One basic fundamental that every early-stage investor should know is that startups follow the law of power – a small per cent of the startups you invest in will give you the majority of your profits".

Sanjay Mehta, founder & partner at 100X.Venture
"Are startups a good investment?" Startups are high risk and high return investments, which follow the power of law. It is not about the number of hits you have, but the magnitude of those hits. That's where we find the answer to our question. The wealth creation opportunity that startup investments provide is nearly unparalleled. But it is also extremely risky, and conditional.
According to Sanjay Mehta's experience, you must be willing to invest in startups when one has the appetite and the capacity for the high risk involved. An investor with a mission to give first, help founders, and build a business will win this game. One must be capable of creating a significantly sized portfolio of investments in the hope that some of the investments are part of the six per cent and give one huge return.
One can create a startup portfolio by investing about five to ten per cent of their total investment capacity in such an illiquid asset class. It is worth noting that the money invested here must be thought of as a sunk cost – until and unless an exit is realised. The investors must be able to stay patient with their capital that they invest in startups – the best companies can give returns only after 10 years.
It is a great idea to invest in startups if you have access to the funds, the patience to wait for returns and commitment to nurturing the entrepreneur and the business itself. But an individual can invest in startups that can give unparalleled returns you hope for if they work out. To gain access to the top startups, one has to put in time and effort to become a part of the startup ecosystem, become a part of various investor networks, and collaborating with other lead investors and VC firms.
Companies That Invest in Startups
A tech startup is a company whose purpose is to bring technology products or services to market. These companies deliver new technology products or services or deliver existing technology products or services in new ways.
What Is A Tech Startup?
A tech startup is a company created to develop new technology-based products/services or to deliver existing tech-based products/services in new and interesting ways.
In order for a startup to become successful, it must establish itself as a leader within a particular industry, often referred to as "establishing market-share", or "achieving market domination." In more precision, a tech startup can be an organization formed to search for a repeatable and scalable business model, that is potentially producing and selling technological products – whether those are software, hardware or both. This does not make the process to invest in startups any different.
A newly founded startup must carefully select its target market and demographic to ensure it has a fair shot at establishing market-share. Often, founders will evaluate startup ideas based on the opportunities available within a given market.
NEXEA's Angel Investor Network is ideal for startups in Malaysia. Our Angel Investors Network provides startup investment opportunities to investors that are interested in high growth businesses. These are high risk & high return investment opportunities that should be part of any investor's portfolio as this is the segment of the portfolio that produces good ROI.
Testimonials by NEXEA Funded Startups
NEXEA's expertise is startup funding and knows and understands how to invest in startups. The testimonials by NEXEA funded startups like RunningMan, JomRun and Red Dino contribute to our list of successfully funded startups.
Click here to learn more about the benefits that startups reap through NEXEA funding. Also, view our Portfolio.
Invest In Tech Startups: GGV To Invest Further RM75m Into Malaysia Tech Startups
Golden Gate Ventures, a Singapore venture capital firm, announced the opening its Malaysian office in Kuala Lumpur in late 2018. Having already utilised a quarter of its Fund II in early-stage tech companies that are based in or operating in Malaysia, the firm now plans to invest another MYR75 million (US$18 million) to help back Malaysian based start-ups.
According to the company, Malaysia – as the second-most developed economy in ASEAN – noted that the country has strong fundamentals in place to sustainably grow its already-vigorous start-up scene, as it possesses the region's highest rate of initial public offerings (IPOs) as well as high digital penetration.
From Golden Gate Ventures Partner Justin Hall, this, alongside the nation's consistently growing economy, makes it a microcosm of the greater Southeast Asian economy.
"Malaysia is a natural market to expand to for startups. The domestic ecosystem itself is so large and diverse that businesses find an increasingly deep opportunity and a welcome market for their products and services" said Tee. "For Homage, we are looking at Malaysia to help support the local aged and meet their fast-growing care needs. We see the signs and opportunities for aged care solutions to grow sustainably with collaborative support from stakeholders across the private and public sector."

Gillian Tee, the CEO of Homage, explained that Golden Gate Ventures expansion into Malaysia has also coincided with her firm's own entry into the market
Malaysia is the third and latest location in Southeast Asia for Golden Gate Ventures, after Singapore and Indonesia. To date, the firm already has several innovative start-ups operating in Malaysia in its portfolio.
Malaysian Government Incentives During COVID-19
These incentives for tech startups come as a boost for Malaysian startups at the time of the new normal, says Finance Minister Tengku Datuk Seri Zafrul. It was introduced as part of the government's economic stimulus package to weather the impact of the Covid-19 pandemic on startups. It had attracted eight VC fund managers from the United States, South Korea, China, Indonesia and Singapore to invest in Malaysian startups as part of the RM1.2bil programme to help facilitate a growth path and a vibrant ecosystem for high-potential firms to thrive in.
On A Final Note
How you search and invest in startups is an important part of success. You don't want to spend years crisscrossing the country in search of investment opportunities without making any actual investments. Wherever possible you want to optimize the process and costs so that you make the process to invest in startups efficiently. How to invest in startups is only the initial stage however, what comes after is solely the responsibility and the autonomy lies within the entrepreneur.
References
GGV To Invest Further RM75m Into Malaysia Tech Startups
How To Invest In Startups And Make Money
https://thetractionstage.com/2018/10/08/a-startup-or-a-small-company-that-is-the-question/
https://www.slideshare.net/nealcabage/startupopportunityevaluation/65-Evaluate_your_startup_idea_across