A press kit, also known as a publicity kit, is a page on the website with tools and information for journalists and publishers. The best press kits make it simple for reporters to learn about a product and brand and access images and publicity collateral for use in stories.
"A bundle of promotional materials sent to members of the press in order to educate them on a product, service, or nominee."
What Is A Press Kit
Designed to summarize a business, product, or event, media kits are primarily utilized by journalists and are typically known as a "one-stop-shop" for media contacts when they need quick access to information.
The digital media kits we know today are much more engaging and helpful than the boxed kits public relations professionals had to ship to media contacts in the past.
Companies can provide a stronger marketing package thanks to technological advances that offer easy-to-digest insights on brands, products, resources, and leadership and engage media contacts, improving the chances of favourable media attention.
Since there's so much variation, let's have a peek at the actual elements that make up a press kit, and how to put one together that gives the good or service the highest shot of received media (free publicity). If you do your press kit right, you'll see a return on your investment several times over, particularly if it gets your product or service airtime on news channels, or write-ups online and in print media outlets.
What Are Press Kits Used For
A press kit used to be a set of papers, images, and materials submitted to media outlets for marketing. The way press kits are used has evolved as a result of technological advancements. Reporters will now be able to come to you for details on your business. Today's electronic press kit (EPK) is a component of your website. It's been the accepted method of obtaining PR in digital media.
Digital press kits are a common and convenient format to create and distribute content for promotional purposes, especially in the eCommerce space. You can use them to promote:
Product launches
Mergers and acquisitions
Company news
Special events
Components Of A Press Kit
A press kit isn't just about journalists or big newspapers. Anyone who needs to speak about or market the company successfully has the resources they need. It may be someone who has a podcast, a personal blog, or just someone who is sharing your storey in an online forum.
Here are some of the components that are important to a press kit. Please note that the components may not always be the same for all press kits, it will differ depending on the business preference and type.
Press Release
If you're launching a new product, the press kit will help you get the word out. The press release also helps to promote the merger of your business with another. Select only two or three items that will count as major or recent business news (within the past quarter). These updates would provide journalists with a greater view of the company's operations.
Contact Information
You should make it clear who the company's spokespersons are. Tell the journalists when they'll be useful, what they'll be able to communicate about, and how to reach them. The journalist should have a direct dial number and an email address in case they need a comment.
Company Background
Writing a business history page for present and prospective news kits may be beneficial. This backgrounder provides information about the company's beginnings as well as its plans. Major achievements, as well as any honours or prizes, should be included. If you have some other coworkers, tell them about themselves, their roles, and how they came to be a part of your business. You should have the profiles of the management staff here if you have one.
Don't forget about your expansion and product growth plans. Be sure to refresh your backgrounder every year to provide some new information. Consider condensing this into a one-page guide that members of the press can quickly reference to get a greater understanding of the company or share the company's history on their own terms.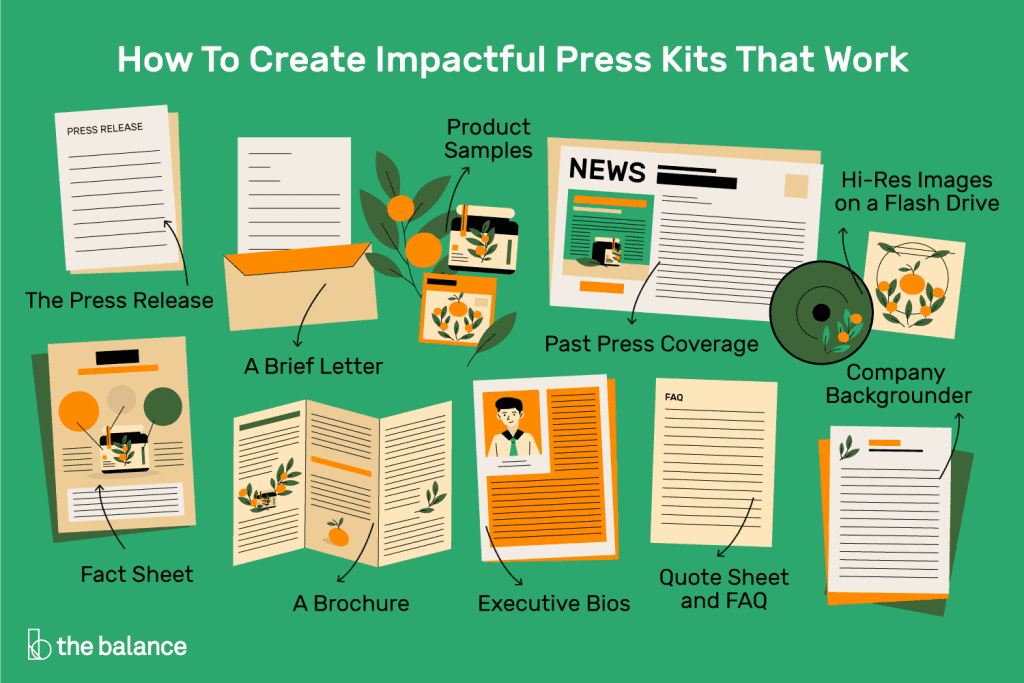 A Brochure
In addition to a basic press release, brochures are particularly useful for explaining the product or service. It will offer scientific detail in a straightforward manner in addition to being a visual feature. You should have a variety of brochures in your trade show press kit that offer the editor/reporter a lot of detail on all of your products/services.
Executive Bios
Executive biographies, along with high-resolution photographs, provide the editor with much-needed background knowledge on the company's leadership. Since some magazines will print a profile word for word, write it in the third person rather than the first.
Both bios should be one page long, with honours and accolades included but no personal details other than industry affiliations.
Images and Logos
Don't hesitate to display full-colour and black-and-white versions of the logo in both high-and low-resolution JPG and PNG formats. Providing the right files ahead of time is the only way to ensure that the entity is well portrayed. You can also include high-res images on your website for the media to download. Just be sure to include the direct link to your image gallery in your press kit material.
Where Do I Keep My Media Kit
With the modern age of digital press kits, you can easily exchange links to the digital press kit and also use an analytics tool to track how many people visit your media kit.
Keep It Online
This option should be your go-to choice for three simple reasons:
It's easy to update
It's easy to share
It's easy to adapt
You will only need to edit the photo file once with an electronic media kit. Anyone that has a connection to your media kit can immediately see your most recent content from that point on. It's also worth mentioning that your press kit should be simple to locate and use. Journalists are familiar with the press kit/media link located in the footer of every webpage, so make sure to have a link to your press area in your website's footer.
Your current website will be used to build a media pack. Your current web configuration will decide things like ease of use and media upload thresholds, so check with your tech staff for more details.
PDF
For starters, a PDF press kit must be concise; think one A4 page. Besides two, having a PDF version of your media package is useful for having something to print and share at a gathering, or to sneak through a journalist's packet while they aren't looking.
A PDF helps only to educate, unlike your web material, which can be accessed and its properties included in stories about your brand right away.
As a result, the printable press kit can be tailored to a specific audience or occasion. However, a PDF Media Kit cannot do the following:
Once you distribute it, it's out of your hands – so no chance to keep it updated
You can't include media for journalists to use
If emailing, your recipient's server could flag the attachment as spam
Examples of Press Kits
Whatever specific details you want to use in a publicity package, make sure that all assets are media-ready and ready to be used by reporters right away. This will not only help you get attention, but it will also help you develop stronger connections with the media.
Delta Airlines
An online media pack, with all of your materials beautifully packaged, convenient to share, and preview, is a much safer option—not just for journalists, but also for you. It allows you to refresh your press releases at any time, change out old folders, or add new ones to your publicity package. As the example below indicates, for Delta Airlines.
Intercom
Intercom, a Conversational Relationship Platform, has one of the most impressive press kits available online. The list of useful press resources goes on and on: company overview, free brand properties, product screenshots, leadership profiles & images, and so on.
On A Final Note
However, even the best press kit in the world won't guarantee you press; it will just make it easier for you to get it. You'll already have your publicity kit to turn to and share with reporters when networking and reaching out to publications. Reporters would be more open to your offer for the press if you do any of the legwork for them upfront.
References