Customer relationship management (CRM) is a system that allows business users to manage all of their company's relationships and interactions with current and prospective customers. The purpose is straightforward: to strengthen commercial partnerships. A CRM system assists businesses in staying connected to customers, streamlining procedures, and increasing profitability.
Definition Of Customer Relationship Management (CRM)
Customer relationship management (CRM) is using various techniques, approaches, and technologies to manage and analyze customer interactions and information across the customer lifecycle. The objective is to establish long term good customer service relationships, which will help with client retention and sales growth.
CRM systems are able to gather customer information from several points of interaction between the customer and the business, such as the company's website, phone, live chat, direct e-mail, marketing materials, and social networks.
CRM systems may also provide extensive information on consumers' personal information, purchase history, purchasing preferences, and issues to customer-facing staff members.
Types of Customer Relationship Management (CRM) Technology
CRM technology is a vital element of today's enterprise-software sector, which includes the bigger software-as-a-service (SaaS) business. In addition, CRM technology plays the important role in engaging customers' lifecycle, from education, purchase, and post-purchase. Nowadays, Salesforce, Microsoft, SAP, Oracle, and Adobe Systems are the top five giants in the CRM business.
The types of CRM technology are listed below:
CRM Cloud Solution
CRM cloud-based systems enable business users to search for and get client information from a cloud database instantly by using a smartphone or any digital device. It will help business users, especially sales and marketing employees to simplify and manage their client base.
Cloud computing technology provides a solution for storing client information on an external, remote network that employees may access at any time and from any location which has an internet connection.
On-premises CRM
This method places the responsibility of database management, control, security, and information management on the organization using CRM software. Through this technique, the company pays licenses in advance rather than yearly subscriptions from a cloud CRM supplier.
The programme is hosted on the company's servers, and all upgrades are the user's responsibility. It is also common for a lengthy installation process to be required in order to completely integrate a company's data. An on-premises deployment may assist businesses with complicated CRM requirements.
Open source CRM
Open source CRM system is opening its source code available to the public, allowing businesses to make changes at no expense to the firm using the system. Open source CRM solutions also allow for the inclusion and customization of data linkages on social media platforms, which may help businesses enhance their social CRM practices. Open Source CRM solutions like OroCRM, Bitrix24, SuiteCRM, and SugarCRM compete with proprietary platforms from Salesforce, Microsoft, and other vendors.
Adoption of any of these CRM deployment options is dependent on a company's business demands, resources, and goals, as each comes with its own set of charges.
Capabilities of CRM System
The most basic function of CRM software is recording and consolidating clients' information into a single CRM database. Business users are able to access and manage clients more simply by using the database.
Today, CRM systems are more comprehensive for business users to track and manage their client's activity. These services include the ability to record numerous consumer interactions via email, phone, social media, or other channels. A comprehensive CRM system enables users to track performance and analyze business insight.
Marketing automation
CRM systems with marketing automation features can automate repetitive operations to improve marketing efforts at various stages of the lead generating lifecycle. For instance, once an audience subscribes to your website, it may automatically send an email with marketing content, with the goal of turning a sales lead into a long term customer.
Salesforce automation
Salesforce automation solutions are able to manage client contacts and automate specific sales cycle business processes necessary to follow leads, gain new target audiences, and strengthen customer engagement.
Contact centre automation
Contact centre automation is designed to alleviate the repetition of a customer centre agent's job. Chatbots, for instance, are automated contact centre solutions that help simplify and shorten the customer service process. Chatbots use pre-recorded audio for filtering inquiries and sending them to the appropriate agent to address the individual client's request.
The Importance of Customer Relationship Management (CRM)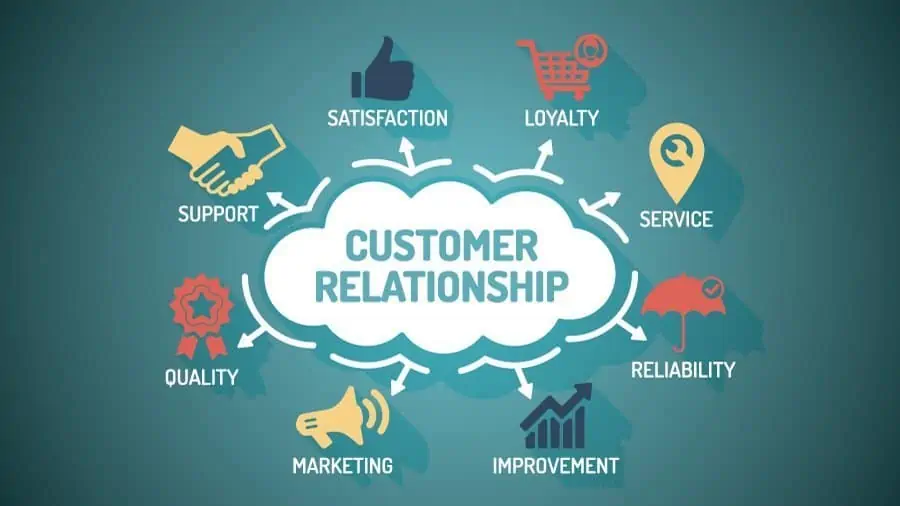 A good client relationship management system is able to help businesses establish a long term relationship with their clients, which leads to loyalty and client retention. CRM is an excellent management approach that results in greater profitability for a corporation since customer loyalty and revenue are both traits that impact a company's revenue.
At its core, customer relationship management (CRM) is all of the activities, strategies and technologies that companies use to strengthen engagement with clients. Any organization will get benefit from keeping track of customer interactions and relationships. Below are the advantages provided by the CRM solution.
Understanding The Purchasing Habits Of Your Customers
CRM enables businesses to understand more about their consumers, including the clients' personal information, purchasing histories, and specific requests. As a result, merchants allow to anticipate and make a future plans to fulfil their customers' needs. Well utilized CRM tools are able to help companies in making appropriate decisions for future marketing campaigns based on the client database.
Well Manage Your Organization
CRM allows organizations to become more productive by organizing and automating certain aspects of the business. CRM systems help businesses automate and simplify repetitive work procedures in areas such as customer services, sales processes, marketing campaigns, and business analytics. Businesses may effectively manage their client information and business prospects thanks to the automated CRM tool.
Optimize your business process
CRM software has a variety of functions that may be used to streamline corporate processes. CRM systems that are simple and efficient may increase consumer satisfaction with your products and provides them with a positive impression of your brand.
To Cut Cost
An enterprise CRM software is not inexpensive, but it will save the company a lot of cost over the long term. A CRM instrument that can help to reduce the size of the company's analytical and marketing teams. As a company owner, if your company with an integrated CRM system, you will not have to make any sacrifices. You just focus on the talents you desire and identify the best fit for your company's position. It will speed up your recruiting process and filter out a lot of risky concerns.
Types of CRM Strategies
CRM software uses a variety of strategies and applications to manage clients, allowing it to be adapted to practically any business type. CRM systems are critical in assisting companies in establishing a positive community among merchants and consumers. It is vital for businesses to determine which strategy to use depending on the company's features and target audience.
CRM strategies are listed below :
Contact Center
In previous times, the sales and marketing departments as well as contact centre agents are the main department responsible for gathering the customer data and information. Through the customer lifecycle, the sales and marketing team is able to get the market leads and audience information then update to the system, and the contact centre gathers the information and revises customer personal data through phone calls and other communication tools. Today, chatbots are the latest tool used by contact centre agent to avoide the repetitive work and filtering customers' requests.
Social CRM
Nowadays, most businesses have created their social media page for engaging with audiences and boosting the sales result. Social media platforms such as Twitter, Facebook, YouTube, Podcasts and TikTok are the modern way used in today's CRM strategy. The benefit of using social CRM in business is that it provides an open platform for all clients to comment, evaluate, and interact with the company without restriction, whether they are airing concerns or offering positive feedback on the product.
Various communication platform enables increased customer interactions on social media and reach wide audiences. Each social media tools have specific features for gathering and analyzing business information and establishing an online community. For instance, hashtags and online poll features are excellent tools that allow business users to engage with their clients.
Companies are able to figure out future marketing strategy and plan once received customer reactions and satisfaction through social CRM data. In this way, companies may understand clients' needs and preferable products through customers' comments and reviews on the social media platform. Furthermore, customer communities can provide low-level customer assistance for certain sorts of issues, reducing the frequency of contact centre calls. Businesses might get fresh and innovative ideas from community groups for researching the future product and resolving previous issues.
Mobile CRM
CRM applications for smartphones and tablets have become essential for sales representatives and marketing professionals who need to access client information and complete activities while they are not in their offices. Mobile CRM apps enable businesses to easily optimize their entire sales processes.
Mobile CRM applications are wonderful tools for sales and marketing teams to engage with their customers and establish long term relationships. Mobile CRM apps provide special features such as real-time alerts, automated response functions, and sales performance tracking to help sales and marketing personnel streamline their processes and increase productivity.
Conclusion
In conclusion, Customer Relationship Management (CRM) technology is an excellent tool for assisting users in the commercial sector. However, approaches to identifying and monitoring visible risks are critical for CRM business users. Security of a CRM system is vital to a business since it is integrated into the confidentiality of clients and the company's credibility.
Despite advancements in CRM technology, a CRM system without competent management may pose a threat to the company. If risks occur, they pose a huge threat; if the company focuses on the risks, it may prevent the issue from progressing to the next level. As a result, business users need to stay alert and manage properly to their CRM database.
References
Understanding Customer Relationship Management (CRM)
The importance of Customer Relationship Management (CRM)