Ever thought of relating a unicorn to the business environment? This article will provide insight into what is a unicorn company, their characteristics, what makes them different from others out there and how they operate.

What is the analogy behind the term 'unicorn'? Explained by Aileen Lee herself:
"I was trying to come up with a word that would make it easier to use over and over again. I played with different words like 'home run,' 'megahit,' and they just all sounded kind of 'blah.' So I put in 'unicorn' because they are – these are very rare companies in the sense that there are thousands of startups in tech every year, and only a handful will wind up becoming a unicorn company. They're really rare."

Aileen Lee
What Is A Unicorn Company?
A unicorn is a term used in the venture capital industry to describe a privately held startup company with a value of over $1 billion. This term was first coined by Aileen Lee, founder of CowboyVC, a seed-stage venture capital fund based in Palo Alto, California.
Since the coining of this term by Aileen Lee, the term has become widely used to refer to startups in the technology, mobile technology, and information technology sectors—usually at the intersection of all three—with very high valuations questionably supported by their fundamental finances.
Characteristics of A Unicorn Company
In order to be recognized as a unicorn company, there is a certain criteria that is to be met:
Venture-Backed. A startup requires resources from venture capital in order to scale the company significantly in a short time
Privately Owned. Most of the unicorns are privately owned which gets their valuation bigger when an established company invests in them.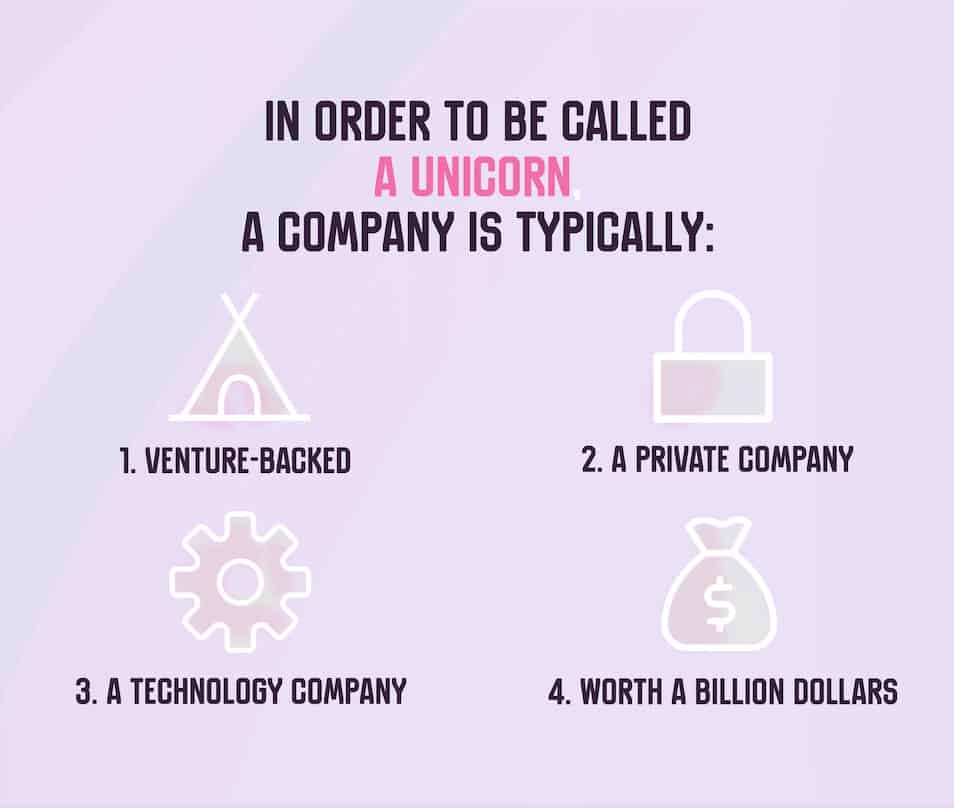 Technology Company. Unicorns business model runs on tech. Uber has its model accepted by crafting a friendly app. Airbnb made the world seem smaller by making the best of the world wide web.
Billion-dollar Worth. All the unicorns have brought a disruption in the field they belong to. They are also seen to keep innovation up and running to stay ahead of competitors which might later boom.
Valuation of Unicorns
Unicorn is a term given only to 'startups' who have a valuation of over a billion. The startups that exceed the valuation of $10 billion are grouped under the term called 'decacorn' (a super unicorn). Dropbox, SpaceX and WeWork are some of the examples of 'decacorn'.
The valuation of a unicorn company is derived from valuations developed by venture capitalists and investors who participated in the financing rounds of the companies. Since all unicorns are startups, their value is primarily based on their growth potential and expected development. The unicorns' valuation is not strongly related to their actual financial performance or other fundamental data. Note that despite their abnormally high valuations, many of the companies have yet to generate any profits.
It needs to be understood that valuing a unicorn company is a sophisticated process that involves the consideration of various factors and the development of long-term forecasts. Additional complications often arise due to the business models of such companies. Some companies become the first business of their kind in an industry, which makes the valuation process even more complicated.
Why are so many companies valuing their worth in billions? Here's a short video to help you understand the concept of a unicorn company better
Unicorn Company Examples
Start-ups like Uber, Airbnb, Flipkart, Xiaomi & Didi Chuxing are highly valued startups, commonly known as "Unicorns", where venture capitalists contribute more than financing to these early-stage firms; they also often provide strategic advice to the firm's executives on its business model and marketing strategies.
What Kind Of Companies Become Unicorns?
Unicorn companies have certain characteristics that make them easy to separate out from others and make them stand out. They are as follows:
Consumer-centric Approach. they employ a consumer-centric business strategy. In other words, they have the customer in mind before (ideation), during (manufacture), and after (after-sales). User experience is the key. At one time only the product used to matter. Now the buying experience is equally or more important.
Rapid and Global Expansion. good startups begin life with a global mentality and follow a get big fast strategy in order to, as the name suggests, get big as quickly as possible. Going all out for internationalisation and having a scalable model are fundamental to achieving both these objectives.
Not Afraid Of Uncertainty. the line between success and failure is a very thin one. These types of businesses are well aware of that fact, so they learn to take the rough with the smooth and develop a special resilience.
Entrepreneurs regularly wonder what sectors are likely to produce unicorn companies. There's certainly no black and white answer to this question, especially as technology changes this framework year over year, but we can still look at the herd as a whole to pick out patterns and see which industries have historically dominated the club and which industries might be up and coming. The results below are based on past unicorn company trend and patterns and may be subject to change over time:
Fintech encompasses nearly all new technology that seeks to improve and automate the delivery and use of financial services — because who wants to conduct banking transactions as we did 10 years ago? It leads the herd with 15% of unicorns existing in this space.
At 13%, startups in the e-commerce and marketplace industries also dominate the spread of unicorns.
These are followed by artificial intelligence and robotics at 10% and another 8% from the health space — everything from genetics to imaging and new technology in the space.
Unicorn companies are scarce and difficult to find. Something similar happens with these kinds of startups. In January 2019, according to data from CB Insights, there were only 310 in the entire world.
Toutiao - Bytedance (China): news platform with customised content.
Uber (U.S.): mobile taxi app.
Didi Chuxing (China): vehicle hire company.
WeWork (U.S.): job sharing company.
Airbnb (U.S.): holiday and tourist accommodation platform.
SpaceX (U.S.): aerospace transportation company.
Palantir Technologies (U.S.): big data analysis specialists.
Stripe (U.S.): a company that allows individuals and businesses to receive payments via the Internet.
JUUL Labs (U.S.): electronic cigarette company.
Epic Games (U.S.): video games company. E.g. Fortnite.
Below is a table summarising each of these unicorn companys' valuation and valuation date.
| | |
| --- | --- |
| Company | Valuation (in US billion $) and Valuation Date |
| Bytedance (🇨🇳) | $100bn as of May 2020 |
| Uber (🇺🇸) | $72bn as of August 2018 |
| Didi Chuxing (🇨🇳) | $56bn as of January 2019 |
| WeWork (🇺🇸) | $47bn as of January 2019 |
| Airbnb (🇺🇸) | $30bn as of January 2019 |
| SpaceX (🇺🇸) | $74bn as of February 2021 |
| Palantir (🇺🇸) | $41bn as of 2019 |
| Stripe (🇺🇸) | $95bn as of March 2021 |
| JUUL Labs (🇺🇸) | $24bn as of October 2019 |
| Epic Games (🇺🇸) | $17.3bn as of July 2020 |
**It is important to note, that over time most of these companies have filed for IPO's and have exited the unicorn company status, hence why updated data on their valuation is unavailable.
Future Unicorns
CB Insights used the same method for their 2015 list and 2019 list, of which 52% and 34% of our picks have become unicorns (since publication), respectively.
Below is the unicorn company future infographic, find the key industry that they are based in, stage, and geography insights from last year's picks.
One of the key takeaways from this list is that enterprise/big data tools dominate. 30% of companies on the list work on enterprise or big data tools. DevOps and developer tools comprise almost half of this category, with companies covering enterprise search (Algolia), distributed databases (Cockroach Labs), continuous delivery (Harness), chat features (Sendbird), and customer data protection (BigID).
20% of a future unicorn company operate in the fintech space. International markets are broadly propelling the fintech space, with 6 of the 10 featured fintech future unicorns located outside the US. Argentina (Ualá) and India (CRED) represent emerging markets where fintech is gaining momentum. The next most-featured categories after enterprise/big data tools and fintech are healthcare and hardware, with 8% representation each.
Lessons From Unicorn Company Leaders
Unicorns have either disrupted existing markets or created entirely new markets, thanks to technological innovation and clever market strategies. Regardless of the individual story, all unicorns faced the same challenges typical for any startup company, and studying the way they've dealt with these problems can teach us important lessons, especially in the early stages.
Below are a few lessons learned from some startup companies:
People love companies with "world-changing" ambitions.
Coming up with a truly innovative idea is a difficult feat, but coming up with a forward-thinking idea that can change the world is even rarer. Those who do try to make the world a better place (or in this case, the entire universe) tend to gain the support of the public. It's one of the reasons why SpaceX sits so high on the podium of unicorn startups. Valued at over $31 billion, SpaceX is among the top ten most valuable private companies. It's also one of the reasons Elon Musk's reusable rocket venture is now worth more than his electric car.
When it comes to expansion, understand the problems facing new markets.
This example fits great on Grab. Singapore's Grab has beaten Uber at its own game. It's not just about having exceptional ideas but knowing how to execute them. Despite Uber's aggressive investment in Southeast Asia, it has struggled to beat Grab. That's partial because Grab's founder has a cultural advantage.
While Uber has spent close to a decade figuring out what Western users want out of a ride service, the company has struggled to adapt its findings to parts of the developing world, especially in places that are just now coming online. Grab's founder Anthony Tan has managed to figure out ways to make e-pay work in nations that lack the financial infrastructure.
On A Final Note
The word 'unicorn' has come a long way from just being a mythological creature to a regular feature in business and finance discussions. Today, a unicorn company has attained recognition and made a place for itself in the market. That said, it is not necessary that every unicorn will end up being a successful startup.
The 19 businesses that top in the list mentioned earlier are valued at over 10 billion dollars, so they are known as decacorn startups. Toutiao (China), Uber (U.S) and Didi Chuxing (China), the first three, are valued at 75, 72 and 56 billion dollars respectively. As for the markets they operate in, we find companies dedicated to 3D printing, big data, biotechnology, cybersecurity, e-commerce, fintech, hardware, software, robotics, etc.
References