Project management tools are useful organisational aids that are routinely used to help teams coordinate business projects and tasks. These tools typically provide a variety of customizable customisations and features adapted to the users' needs, such as the ability to define deadlines, priority levels, assignees, and so on.
Project management tools are beneficial for improving team interactions, keeping the team up to date on progress without the need for regular meetings, and distributing tasks effectively and efficiently. The result allows the company to make the most of its working hours while also increasing production and performance.
What Is Project Management
Project management is the process of planning and organising a company's resources to complete a specified work, event, or duty. Personnel, funds, technology, and intellectual property are among the resources managed, and it might be a one-time initiative or an ongoing effort.
Almost every project has a budget and a deadline. Project management ensures that everything stays on track, on schedule, and budget. That implies that when the project's timeline approaches, the project manager may keep all of the team members working on the project to ensure that it is completed on time.
Why a Startup Needs Project Management?
Leading a group may be a psychological minefield. You'll have to motivate the unmotivated, persuade slackers to do their part, and deal with uncommunicative superiors who want you to read their minds if you want your project to be completed. In a nutshell, people issues may be found wherever. Mistakes in business can be costly. When budgets are misjudged, deadlines are missed, and risks are undervalued, the outcomes can be terrible – and businesses can fail.
That is why project management is crucial. Forecasts may be made more accurate, monitoring can be more precise, and projects can reach their targets by breaking down large and intricate projects into precise, feasible stages. Many entrepreneurs underestimate the importance of project management in their business. But it is true that when project management is done well, there is no space for error. Sure, your startup will have to take various risks, such as planning, giving value to clients, managing finances, project execution, and so on.
How Do Startups Pick The Right Project Management Methodology
There is no right or wrong in project management, it's all that your needs are. So start by understanding your needs, go through this checklist first:
How is your business structured?
What is the size of your organization?
What are your business objectives and goals?
How complex is your project?
What do you expect from final outcomes?
Do your clients/customers prefer a particular methodology?
Taking care of your needs, choosing the right methodology is a vital step in your project journey. This checklist will help your startup pick the right project management tools that are the most useful to you. Some of the popularly used project management tools by startups and businesses are summarised for you later in this article.
Tips for Startups in Project Management
Here are some pointers that all startups and businesses can keep track of and follow:
Be Realistic in Goal Settings
The key is that every entrepreneur should set good goals, not just goals. In other words, SMART (specific, measurable, achievable, realistic and time-specific) goals. Setting and attaining goals that are reasonable will offer you a sense of happiness and well-being. Begin by laying a solid foundation.
What is the most basic purpose of my long-term goal?
What actions do I need to take for long-term goals?
How to build upon the actions and prepare everyone to achieve those goals?
You should devote some time and effort to considering what you want to accomplish and the influence you want to have. It isn't enough to just state, "We want to expand our business." You'd need to sharpen this fundamental idea to give projects a sense of purpose and emphasis. "We want to boost our business by 10% this quarter by launching a new service line for our particular segment of customers". This is a pretty simple example, but it drills down from a vague idea to a specific set of goals. This applies to any type of business because all projects need to have focus, regardless of the industry.
Convert Your Setbacks To Success
Your life as an entrepreneur is entirely up to you. Many of you will be aware of the glamorous life of an entrepreneur, but what you will not be warned about are the setbacks that will occur along the way. Project setbacks are a regular occurrence when there is insufficient preparation for your project.
Stakeholder complaints, heated team discussions, missing deadlines, and budget concerns will make it difficult to keep the project on track. It's up to you to foresee the setback and convert it into a learning opportunity. As an entrepreneur or startup, you must be comfortable with change. Change happens, and when you're blazing a new trail, being able to pivot is key to success. Whatever plan you create today is only a starting point for where you are going to go in the future.
Plan Milestones
A milestone marks a turning point in your startups' lifecycle. It might assist you in communicating the status of your project. A key component of any project plan is the project map, which serves as a guide for you while you work on it. Establish the appropriate milestones for your team. To stay focused on the goals, discuss the relevance of each milestone with your team.
Break the project into a list of results and outcomes
Identify project risks
Set progress reporting
Highlight important dates
Have a control over project results/outcomes
Clear objectives and requirements
Consider your stakeholders' support
Be ready for the long run
Communicate and Ensure Strong Teamwork
To communicate with authority, you'll need a thorough comprehension of the communication process. Everyone knows that better communication equals better project management in project management. On a daily basis, team communications keep requirements under control. You'll be able to keep your team updated on every project step. Hence, one of the functions of project management tools is to ensure strong team-building and collaboration no matter where your team is working from.
Communication is not just about talking and hearing, it is about having an understanding of the complete ins and outs of a project. It's about being there for everyone, understanding the challenges of the project, being engaged with everyone, and clearly articulating the vision.
Project Management Tools for Startups
Project management tools are useful organisational aids that are routinely used to help teams coordinate business projects and tasks. These tools typically provide a variety of customizable customisations and features adapted to the users' needs, such as the ability to define deadlines, priority levels, assignees, and so on.
Project management tools are beneficial for improving team interactions, keeping the team up to date on progress without the need for regular meetings, and distributing tasks effectively and efficiently. The result allows the company to make the most of its working hours while also increasing production and performance.
From the variety of tools out there to be used, below are some of the most popularly used that are effective in project management and timeline management for your startup, most of them are tried and tested by us as well! These workspaces serve as a project management tracker as well as a collaborative space for startups and their employees to work together.
Notion
Notion is an amazing programme that operates on its website as well as on iOS and Android. It is appropriate for both business and personal use and is suitable for small teams and startups as well as large companies. It displays a variety of options for users to customise database presentations, such as tables, boards, lists, calendars, and media such as photographs and videos, to suit your workflow.
Different pricing plans are depending on the size and requirements of your organisation. Notion is a subscription-based software. Multiple database views are available to users. The software also includes several templates that cover a variety of topics, including design, education, engineering, human resources, and more.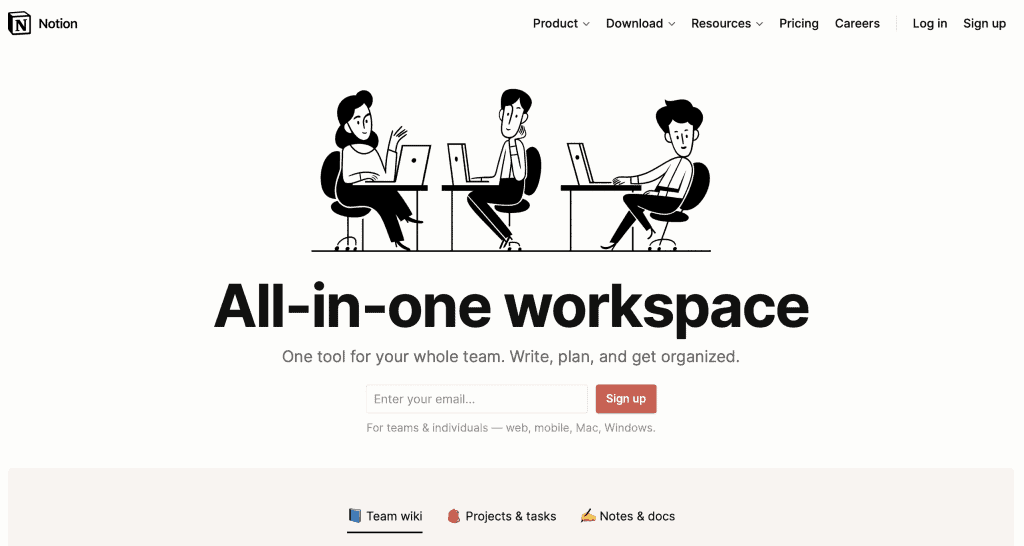 Users can create sub-pages that link to a new canvas for more information, allowing them to be more organised while storing data. Existing files from Google Docs, Evernote, and other sources might also be linked. Notion users can use the app to collaborate with teammates in real-time for optimal productivity. We use Notion as our collaborative workspace and highly recommend its powerful interface for startups and businesses.
Trello
Collaborate, manage projects, and reach new productivity peaks. From high rises to the home office, the way your team works is unique—accomplish it all with Trello. Trello is a simple and user-friendly platform that displays projects and tasks using a card-based dashboard, comparable to the kanban approach of displaying work on sticky notes or post-its on the wall. Tasks can be listed on cards and organised into multiple columns, such as in progress, completed, and future tasks.
On the dashboard, users may also add tags, prioritise projects, and get a birds-eye perspective of ongoing tasks. Users can integrate with current platforms such as Google Suite and Slack, as with other project management systems. Trello also offers an automation option that makes certain mundane tasks more efficient. Trello is accessible on iOS and Android as a web and mobile application, enabling synchronization across all devices for your startups progress.
Trello is also a subscription-based software starting with a free plan for beginners and very small businesses. The free plan includes 10 boards per team, unlimited lists and cards, and a 10MB file attachment limit per board, as well as a monthly limit on automation instructions. Two paid programmes provide access to additional features.
Zoho Projects
Zoho Projects is a well-known project management application that may assist teams in streamlining their forthcoming work and duties.
Task lists with numerous tasks and milestones, time tracking and timesheets, and Gantt charts to measure project progress are just a few of the highlights as well as management of documents and files.
What makes this product unique is that it can be used in conjunction with Zoho CRM and other tools to handle nearly every element of your business in one place.
Monday
Monday has a pleasant user interface and strikes a good mix between usefulness and ease of use. There are several templates available that address various areas of project management, including a project overview, project tracker, change request management, resource management, and product roadmap. There are different customisable templates tailored to each department: Marketing, IT, Human Resources, CRM and Sales, and more.
Users can use features like due dates, reminders, and update notifications to automate common tasks. Monday can also help people visualise projects accurately utilising Gantt charts and timetables. Users may also utilise the dashboard to quickly scan the wider picture of each project and combine projects with regularly used third-party technologies like Microsoft Teams, Adobe Creative and more.
Monday offers a 14 day free trial for its users, after which it goes by a tiered pricing system starting from as low as U$8 per user per month.
Scoro
Scoro is a comprehensive project management software that includes all of the features you could need, including projects and tasks, contact management, quotations, team communication, billing, and reporting. Its key features include:
Projects with sub-tasks and deadlines
Real-time KPI dashboard
Shared team calendar & meeting scheduling
Contact management
Time tracking and billing for work
Detailed reports on project progress and finances
Quoting and invoicing with pre-set templates
What's special about this tool: Scoro helps to streamline your entire work progress, so you don't need to use a lot of different tools for every task. All your important information is stored in one central place.
On A Final Note
To sum it up, project management tools that startups use require a few essentials in order for them to be effective:
Room for Teamwork and Collaboration. Each member must have access to the knowledge about the tasks other team members are engaged in. This is especially helpful when the duplicity of tasks is a possibility, hence the tools and softwares used should have this feature
Planning and Scheduling. An effective startup company, project management software, must be able to draw all the plans in one place. That too, without making the workspace chaotic and keeping it as simple and as hassle free as possible
Documentation. Documentation is also necessary for keeping track of a project's numerous files and data types. There needs to be a central location where all of the files can be kept. Access to these must be allowed or, more accurately, restricted to those who do not require them.
Analystics and Evaluation. It is critical to do a critical self-evaluation. Individuals or the team as a whole could be referred to in this way. It must have built-in analytics for reports on the team's performance for appraisal. Or to identify potential loops that could slow down the project.
References