This article is part of a study of popular businesses & their business and revenue models so that people can understand how investors look at startups. Examples of which can be seen in our Grab, Setel and Lazada articles. Most information are facts collected publicly, and some are our own assumptions - which are pointed out as such. In this article, we will be studying the Agoda business model and revenue model.
The hotel booking industry is a fiercely competitive one which has spawned a somewhat peculiar symbiosis between travel industry suppliers and online travel agencies (OTAs). On one hand, OTAs allow these suppliers to have an endless supply of both new and returning customers without much effort, especially after years upon years of efficiency improvements. On the other, however, this endless and effortless demand has also come at the expense of a large cost: extremely high commissions on each booking.
One of the major subindustries in the OTA industry is hotel booking. Hotel booking is the third-largest subindustry in OTA and is the third fasting growth rate based on revenue, only lagging behind Vacation Rentals and Package Holidays.
One of the reasons behind such rapid growth is the fierce competition between hotel booking companies, one of which is Agoda. Agoda is one of the world's fastest-growing online travel booking platforms, having been founded as an e-commerce start-up based in Singapore in 2005. Since then, it has grown to a massive multinational corporation which offers a massive network of 2 million properties in over 200 countries worldwide.
In the beginning, eventual co-founders Michael Kenny and Robert Rosenstein started two hotel booking websites, PlanetHoliday.com and PrecisionReservations.com, but eventually combined both companies into Agoda, as an e-commerce startup. In 2007 Agoda was acquired by Booking Holdings and now holds a subsidiary status under Booking Holdings.
Agoda Key History
Founded by Michael Kenny and Robert Rosenstein in 2005
Acquired by Booking Holdings in 2007
Launched in July 2011 in Apple's App Store and Google's Play Store
Acquired Qlika in 2014 to focus on pay-per-click advertising and to automate and scale marketing systems
Acquired WooMoo in May 2016 to focus on mobile app prototyping and working on mobile app development
Appeared on Google search results for the first time in May 2016
Started branching into non-hotel accommodations in 2017
Pursued greater business emphasis in Israel and Europe in April 2019
Worked together with Digitas to expand its reach to various Asian markets through data-driven content marketing in September 2019
Added the Mix and Save feature to allow customers to more conveniently book different rooms for every night of stay in October 2019
Started selling flights in October 2019
Agoda Key Facts and Statistics
Over 2.6 million properties in over 200 countries worldwide
Available in 38 languages on Apple's App Store and Google's Play Store
Employs more than 5,000 staff with offices in 30 countries
Headquartered in Singapore and a subsidiary of Booking Holdings
Malaysia is listed at Rank 7 in the Top Asian Countries with Most Properties on Agoda
Kuala Lumpur is listed as Rank 6 in the Top Cities with Most Properties on Agoda
Rank 1 based on confirmed room nights booked on Malaysian properties
*Note that the statistics used may be slightly dated*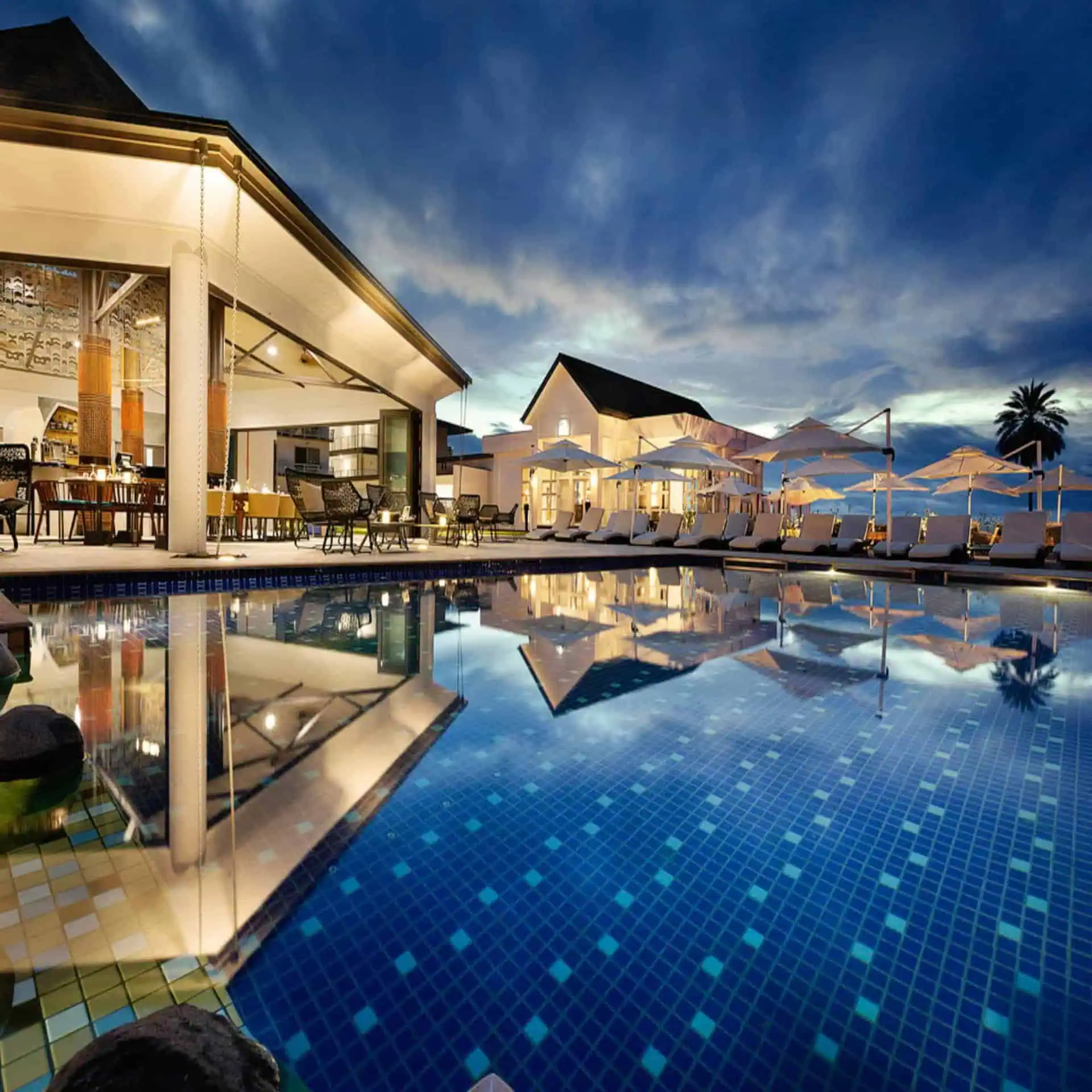 The Hotel Booking Business In Malaysia (& the World)
Usually in this section, we talk about the industry only from a Malaysian perspective. However, for this topic, feel that having an insight into the brief history and evolution of the global hotel booking industry will be greatly beneficial in understanding the Hotel Booking business from the Malaysian perspective.
Before the rise of the internet, hotel booking mostly involved contacting hotels through a phone-call or in-person visit to personally book hotel rooms. It was only with the rise of the Internet that the online booking business began to pick up steam. With the shift of the internet for work use to personal use, there was an explosion in interest in consumer internet. During that time, Microsoft used this explosion of interest accompanied by the dot com bubble to create Expedia, the first-ever Online Travel Agency.
Since then, online hotel bookings have become the norm for everyday consumers, in Malaysia and all around the world. However, one can only wonder, what exactly do these online hotel booking businesses offer and what are the advantages of booking for hotels online rather than contacting hotels directly?
OTAs are online companies which allow for consumers interested in travel-related services to book directly from their websites. Their business model is based on the Marketplace Model which essentially means that they act as a third party agent which resell trips, hotels, vacation packages, etc, where the guest pays off the OTA at the time of booking, and the OTA will only pay the hotel after the actual stay occurs.
As discussed before, this means that they benefit the hotels themselves by allowing for an endless supply of customers, without having the hotels themselves deal with the excess administrative cost incurred when dealing with customers. Furthermore, the benefits that OTAs bring to the hotel booking business is especially large to the consumers. This boils down to three core components: choice & variety, price and user experience.
In terms of choice and variety, OTAs such as Agoda allows for consumers to have all their choices in one place. This allows for an increase in information, leading to a decrease in information failure, which allows for the optimal price point, where consumers can get the best deal. This is largely due to the fact that they are able to compare prices easier on OTA websites rather than individually comparing each hotel room price. They may also have taste-based preferences which can be easier sorted on OTA websites. Hence, having a variety of different choices for hotel rooms allow for customers to gain the highest utility.
Secondly with price, as discussed before, there is a major benefit to consumers when they have all the information on a certain market. OTAs allow for this increase in access to information. Although it can be argued that consumers can compare prices from individual hotel websites, OTAs save the hassle of doing so by collecting the information themselves and, then only, listing it on their websites.
Lastly, from a user experience standpoint, OTAs have spent years upon years of optimising their websites to allow for the most consumer-friendly and accessible way of viewing and comparing different choices and their price accompaniments. This attracts customers to their website and also makes them the go-to choice when it comes to hotel bookings.
Ultimately, this means that OTAs have made the consumers in the hotel bookings market their main priority. Until today, they are still finding ways to improve the user experience, something that hotels have struggled to compete with since the digitalisation of such services in the late 1990s. These are the main advantages that OTAs and hotel booking websites have for the consumers of this market.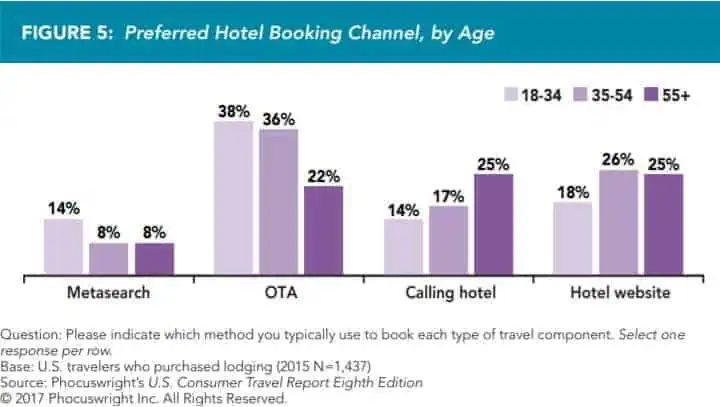 This point is further illustrated in the graph above, in which consumers from a younger age group have been seen to prefer 'OTA' as their go-to preferred hotel booking channel. Furthermore, it is important to note that for the age-group of both '18-34' and '35-54', 'OTA' makes up the biggest percentage for preferred hotel booking channel, and even at the age group of '55+' OTA only lags 'calling hotel' and 'hotel websites' by 3%.
It is also important to note that the figures used above are based on US travellers in the year 2015, and the data is then used to extrapolate assumptions on the Malaysian hotel booking market.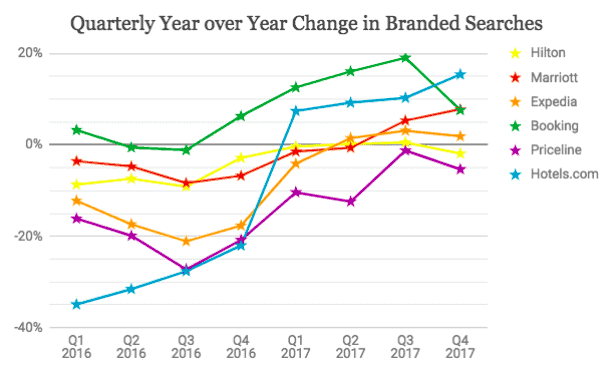 The graph above shows the percentage change in branded searches from Quarter 1 of 2016 to Quarter 4 of 2017. The reason this graph is included is to highlight the preferences of consumers when booking hotels. As can be seen above, hotels such as Hilton and Marriott have been operating at a negative percentage change or barely positive. This means that customers are opting less to book hotel rooms using individual hotel websites. On the other hand, hotel booking OTAs have either an averagely increasing percentage change of branded searches or in the case of Booking.com have increased branded searches in all but two quarters (Q2, 2016 and Q3, 2016).
Relating this back to Malaysia, the tourism industry contributes to a relatively large part of Malaysia's growth contributing to roughly 5.9% of Malaysia's GDP in 2018. Since the early 21st century, Malaysia has put a relatively high significance on this Industry and this has led to an Increase In foreign exchange earnings from RM17.3 bn in 2000, to RM46.1 bn in 2007 (BNM, 2008). This increase has largely been due to the effects of campaigns such as 'Visit Malaysia Year' and "Cuti-cuti Malaysia'. This increase in tourism has led to many spillover effects into other industries including the hotel industry. This has also meant that during these times. OTAs in the hotel booking industry was able to grow at extremely fast rates and expand across Malaysia and other South-East Asian countries who also had increases in tourism, like Thailand and Vietnam.
Agoda - Business Model and Revenue Model
Agoda Business Model
Most OTAs employ a variation of the commission-based marketplace business model. This is where they charge a commission from each transaction. Then a customer pays a provider, the platform facilitates this payment and charges either a percentage or a flat fee. In the case of OTAs, this is usually a percentage fee.
The biggest challenge of the marketplace business model is providing value to both the customers and the providers (hotels). If the customers do not find enough value from the platform, they will go directly to the providers (hotels). On the other hand, if the suppliers (hotels) do not gain value from the platform, they will be better off operating individually than listing their supplies on the platform. This highlights a key limitation in the Agoda business model.
OTAs mainly utilise three main business models: advertising, agency and marketplace business model. Although sounding seemingly confusing and technical at first, the OTAs are generally demanding aggregation platforms. These types of businesses perform extremely well in highly fragmented industries, in which many companies compete and there is no single company which dominates the industry. These comparisons will be drawn and illustrated in greater detail in the section further below: Competitors.
Agoda utilises the marketplace business model to make all of its revenue. As mentioned above, this essentially means that they act as a third party agent which resell trips, hotels, vacation packages, etc, where the guest pays off the OTA at the time of booking, and the OTA will only pay the hotel after the actual stay occurs. For the sake of clarity, below is an example of the marketplace business model in action where the OTA platform buys hotel rooms and then resells them to travellers.
Example:
"Agoda wants to offer a 2 week, all-inclusive vacation for two in Malaysia. Agoda contacts a Hilton PJ and asks to buy a block of 80 rooms at RM50 a piece instead of their Best Available Rate of RM90. Agoda then contacts AirAsia and makes 160 seat reservations to Malaysia for RM600. Assuming that there is no discount included, the package is offered to guests from outside Malaysia for RM1700 for two people. Customers on Agoda buying this package get the benefit of having saved RM130; Agoda shareholders get the benefit of only paying RM1550 for a package that they would then sell to the 80 couples for RM1700."
This model allows for Agoda to remain cash flow advantageous, as they can get the cash upfront from the customer at the time of booking which is usually in advance of the actual travel itself. This is one of the major strengths of the Agoda business model.
However, this does not mean that the marketplace model restricts individual hotel bookings. II means that the marketplace model usually allows for package deals which will appeal even higher to customers who do not want to or lack the necessary skills to research flights, accommodation and other things included in the vacation packages. Therefore, it has been seen that Agoda offers both hotel packages and individual hotel bookings. This highlights the effectiveness of the Agoda business model.
Delving deeper into the nitty-gritty details of Agoda's business model, they are constantly looking for ways to improve their business. As a subsidiary of Booking Holdings, Agoda is one of the smaller players in the hotel booking business, as compared to the larger key players: Booking Holdings and Expedia. Therefore, their acquisitions are usually centred around improving operational efficiency and refining their business model rather than growing their presence in the hotel booking industry. This can be seen in Agoda's 2014 acquisition of Qlika to focus on pay-per-click advertising and improving their marketing and Agoda's 2016 acquisition of WooMoo to focus on their mobile app development. This allows Agoda to continually improve without refining the Agoda business model too much.
A bigger, key player such as Expedia, however, has been seen to acquire other smaller players in the hotel booking business to increase their reach in the industry. This was seen in 2012 when they acquired the Via Travel, the largest travel company in Norway and in 2014 when they acquired Wotif.com, one of the key players in Australia's hotel booking business.
Agoda has also been seen to branch out into other OTA subindustries such as non-hotel accommodations in 2017 and selling flights in 2019. In terms of the new app and website initiatives, they introduced the 'Mix and Save feature in 2019, which essentially allows customers to book a different room for every night of the stay to allow for the cheapest deal and also the 'AgodaCash' initiative which allows customers to earn AgodaCash which works as an instant discount on their future bookings, limited to the amount of AgodaCash the customers earned.
Agoda Revenue Model
The transaction fee revenue model is where a company receive commissions based on volume for enabling or executing transactions. The revenue is generated through transaction fees by the customer paying a fee for a transaction to the operator of the platform. In the case of Agoda, Agoda is a market place operator which provides customers with a platform to place their transactions. During this process, the 'customer can be presented as both the buyer or the seller. To participate in this market place, 'customers' must first register into the platform so both parties of the transaction can be identified. The amount of the transaction fees are then seen as revenue generation by the platform. The fees can be either fixed or percentage, but in the case of Agoda are usually percentage calculated.

Taking the Agoda/Malaysia example above, it can be seen that Agoda generate revenue directly from the customers who pay them the cash upfront after buying a certain package or individual hotel bookings. Agoda also gains revenue from the commission which is paid by the hotels for bringing customers to their hotel.
Agoda Business Model Canvas
Who are Agoda's Key Partners?
1)Travel service providers:
Hotel owners
Non-hotel accommodation owners
Airlines
Rental cars
Activities Providers
2) Offline travel agency affiliates
These agents earn at a commission rate of 5%
3) Corporate travel managers: Agoda has a more ambitious approach to corporate travel management than Booking.com, as they even have their own business travel management portal YCS that leverages off supply-side partners.
4) Technology partners: Agoda Invests a lot into its tech. From Improving Its online marketing through the acquisition of Qlika and the acquisition of WooMoo to improve their mobile application prototyping, they have even been seen to employ the entire WooMoo team to Join their Bangkok headquarter to work on mobile app development.
What are Agoda's Key Activities?
Agoda's key activities are mainly based on customer experience. For example, Agoda enhances the positive indirect network effects and customer experience by increasing and improving on the number of bookable accommodations (by increasing number of locations), types of bookable properties (by including non. hotel accommodations) and improving accessibility to older age groups by making the platform more user-friendly.
Agoda also constantly refines its technology to improve accessibility and also 'cc increase their reach into the consumer base. This can be done through upgrading their website and their app based on the available data and evolving technology, trends and feedback. This can also involve stimulating demand through refined marketing, for example, by using promotions or notifications to inform customers. This will then lead to an increase in engagement rate and conversion rate.
Agoda also observes external factors to ensure they can match changes in different situations and environments. For example, they may observe the regulatory landscape of different countries to ensure they are under compliance and avoid unnecessary fines. Furthermore, they may also observe and study the industry landscape in itself to look out for new entrants and do the same to other OTA subindustries to learn about new or potentially disruptive approaches.
What practical resources does Agoda need to operate?
The key resources that Agoda utilises are to optimise the hotel and traveller experience. Therefore, the number of hotels and quality of hotels will influence customer decisions and a small number of hotels may mean that customers go to a different platform or competitor which offers a greater variety of hotels, which also increases the probability of having a lower-priced hotel.
Furthermore, understanding user data and user experience will allow Agoda to make more informed decisions and serve their customers to a more satisfactory standard as they understand what customers are looking for. The key resource of skilled staff is especially important as it allows Agoda to continually improve and allow it to continue competing with other players in the hotel booking business.
What value does Agoda create for their customers?
The value that Agoda offers differs between travellers and hotels.

For travellers: Agoda gives value to travellers by providing choice and variety, price, user experience standpoint and higher value packages. Essentially, this allows travellers to improve their travel experience and gain better value when travelling.

For hotels: Agoda gives value to hotels by reducing the need for hotels to incur an administrative cost when dealing with customers during the process of hotel booking, allows for an increased flow of customers, links hotels to the global customer base, brings in additional web traffic by introducing travellers to holey which they may not have heard of before and also bring in higher market information to hotels themselves which can then be used to create a more optimal pricing strategy.
How does Agoda interact with their customers?
Agoda has two main customer segments: travellers and hotels. The customer relationship between these two segments can be seen as relative opposites. The reason being that for travellers, Agoda uses a very friendly and personalised approach as they ensure that customer service is guaranteed and they are accurate in delivering their services to travellers. On the other hand, hotels and OTAs such as Agoda have a love-hate relationship.
This is because although they do bring value to hotels, Agoda and other OTA's market concentration gives the OTAs more pricing power, which results in rising commissions which means that hotels earn less from their bookings. A study by Kalibri Labs data has even shown that commissions have jumped 45% as a share of guest paid revenue since 2015. Furthermore, Agoda's lenient cancellation policies lead to hotels facing high cancellation rates which may depress revenue.
Hence, hotels are aggressively promoting their loyalty programs to achieve higher levels of direct bookings to avoid paying commissions to the OTAs. These can be seen in loyalty benefits such as free amenities like WiFi or an exclusive massage session. However, Agoda is also running its own loyalty programs to promote bookings using their system. This can be seen in the 'AgodaCash' program which encourages the use of the Agoda system.
Therefore, although the relationship between Agoda and the hotels are usually mutually beneficial, as Agoda continues to steal even more bookings from direct bookings to the hotels, hotels may start to employ more aggressive customer acquisition strategies.
How does Agoda inform customers about their value proposition?
Agoda's channels are their website and their app. Therefore, Agoda usually focuses a lot of their resources on bringing customers to their app. This can be seen in the fact that Agoda has spent a lot of its resources on improving their marketing and spending on advertising.
Another channel that Agoda uses is their ad channel. In terms of ad channels, this can be seen in the fact that Agoda has paid advertising on Google and Bing and has also attempted to improve their organic search ranking by publishing useful content for travellers. Agoda also posts ads on other OTAs to try and steal customers, and in return, the other OTAs receive ad revenue. Lastly, they also go through other ad channels such as metasearch engines like Trivago.com and Google Hotel Ads.
Which groups of people are Agoda solving the problem for?
Agoda's main customer segments are travellers and hotels. Due to the increase in globalisation and vacations abroad over the past few decades, this has greatly benefited Agoda. With many people coming out of poverty and having the ability to travel, Agoda's customer segments will continue to grow.
Hotels are another customer segment and new hotels will usually immediately register with Agoda or other OTA to get customers faster.
What are the type of costs Agoda incurs?
Agoda's main costs can be divided into two categories: operating expenses and capitalised cost. Although there is not much information on the exact cost values of Agoda, we can extrapolate the rough percentages based on Expedia, another OTA which utilises the marketplace model.
Operating Expenses
1) Selling and Marketing (50.8% of revenue)
Direct costs (80% of Sales and Marketing)

Cost of advertising on search engines and other websites
Private label and affiliate program commissions
PR and other costs

Indirect costs (20% of Sales and Marketing)

Personnel overhead and stock-based compensation
2) Costs of Revenue (17.9% of revenue)
Customer operations
Credit card processing
3) Technology and content (14.6% of revenue)
Personnel and overhead
Depreciation and amortisation of technology assets
4) General and administrative (7.0% of revenue)
Capitalised cost makes up the other categories of costs for Agoda. This can be divided into three different sections: property and equipment, intangible assets and goodwill. Unlike operating expenses, this should not be extrapolated as different OTAs' balance sheets usually look quite different on the technology-related assets. For example, Priceline has much higher asset values in property and equipment, similar in intangible assets and significantly higher in goodwill than Expedia.
As Agoda is a subsidiary of Booking.com, they are not legally required to publish their annual reports. Therefore, there is no way of finding the exact operating expenses of Agoda. The figures in the 'Operating Expenses' subsection are actually based off Expedia. The reason we chose Expedia is because Expedia also utilises the merchant business model and therefore will have the most similar operating expenses as Agoda. These figures were obtained from page F-4 of Expedia's 2019 annual report.
How does Agoda generate revenue?
Agoda's marketplace business model brings in the revenue into the company. According to Skift data, this model brought in $1.2 bn in 2017 alone. Agoda generates revenue directly from the customers who pay them the cash upfront after buying a certain package or individual hotel bookings. Agoda also gains revenue from the commission which is paid by the hotels for bringing customers to their hotel.
Competitors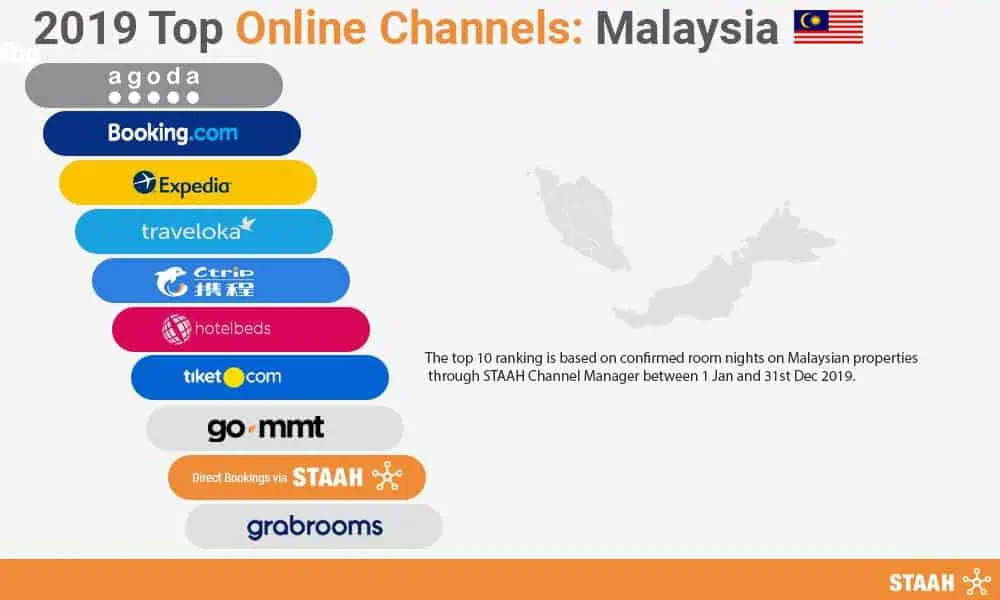 As can be seen in the figure above, Agoda is the highest-ranked based on confirmed room nights booked on Malaysian properties between 1 January and 30 June 2019. Agoda's main competitors right now are Booking.com, Expedia and Traveloka. The interesting aspect of OTAs as compared to firms in many other industries is that there are three different business models which OTAs employ, and there are even OTAs which employ all three.
Booking.com (Agency Business Model)
Booking.com is an OTA wholly owned by the Priceline Group, with a market cap around $99bn and annual revenue of —$11bn. Although Booking.com does employ the agency business model and also have other revenues from advertising, 75% of its revenue comes from the agency business model.
This means that Booking.com's revenue model is the same as that of the brick-and-mortar travel agency and is therefore based on commissions. This means that Booking.com uses the contracts that it signs with hotels that it lists on its websites and will take a commission bade on each booking made by customers through its website, usually between 10% to 30%.
Although seemingly a large range of commission, Booking.com negotiates commissions based on the size of the hotel and how well the respective hotel ranks in its platform. The advantage of this as compared to other business models is that by offering hotel rooms on a commission basis, there is the benefit of not owning the hotel rooms and therefore not having cash and carrying unsold inventory risk.
The agency business model also puts Booking.com at a severe advantage compared to individual hotels. To put into context, studies show that most people use the same hotel either only once or a few times in their life. This is especially true for smaller, independent hotels. OTAs, on the other hand, do not need to worry about which of their hotels the user books, as they make commission either way.
Hence, they can pay much more on advertising than any individual hotel or even larger hotels like Marriott can pay. This is further illustrated in Booking.com's 2015 annual report which states that it spent $2.7bn in 2015 and an additional $273m for brand advertising. From a microeconomics point of view, this means that Booking.com can apply massive advertising economies of scale in their customer acquisition as compared to individual hotel chains.
In terms of technological investments, Booking.com is at the forefront of the OTA industry, investing upwards of $100m every single year to further enhance their technology.
This allows for Booking.com to provide an amazing user experience and provide a deep infrastructure which links the vast array of hotel distribution systems. Looking at the picture above, these features on the Booking.com website have been refined for years and is still now being improved to invoke emotional feelings in the customer and encourage a purchase. This allows for OTA to focus more on the actual sale itself as compared to individual hotels which booking page more-or-less merely represent a transaction form.
Expedia.com (Marketplace, Agency, Advertising)
Expedia.com (not to be confused with Expedia Group who owns Expedia.com) was launched on October 1996 as a division of Microsoft during the dot com hype. Expedia.com went public in 1999 and in 2001 was bought over by USA Networks, Inc.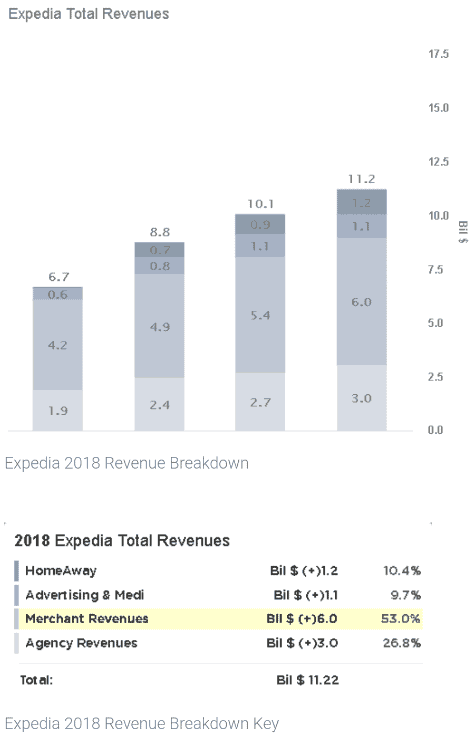 Expedia is one of the more unique OTAs as their business model can be separated into:
HomeAway: $1.2bn / $11.22bn = 10.4% of revenue
Advertising & Medi: $1.9bn / $11.22bn = 9.7% of revenue
Marketplace Revenues: $0.57bn / $11.22bn = 53.0% of revenue
Agency Revenues: $3.0bn / $11.22bn = 26.8% of revenue
This data was obtained from Expedia's 2018 annual report. As can be seen, although advertising makes up a huge amount of its revenue, agency revenues and HomeAway revenues also make up quite a large percentage of Expedia's total revenue. However, as we have discussed all three of advertising, marketplace business model and agency business model, we can draw comparisons between Agoda.com, Expedia.com and Booking.com.
Key Comparisons between Agoda.com, Booking.com and Expedia.com
When drawing comparisons, there are major differences despite all being OTAs with demand aggregator platforms. Firstly, the key difference lies in the different geographic exposures of both companies. Expedia mainly serves customers in the US and derives most of its revenue from the United States whereas Booking Holdings operates mainly in Europe and Agoda operates mainly in Asia.
There is also a difference between companies when employing single or multi-brand approach. Expedia is built around the patchwork of different website properties that it acquired over the years, including Hotels.com and Travelocity. On the other hand, Booking Holdings and Agoda generate most of their revenue from their namesake website platforms.
In the long term, this may impact Expedia's online business strategy. The reason being that despite Expedia having many other website properties, by having a unified website strategy, this allows for a larger market share than similar websites in the region. As a result, most of Booking.com and Agoda.com's traffic comes from users who go to the page directly, rather than being directed to it by Google's search engine. Therefore, Booking and Agoda's website strategy is a superior business strategy.
Startup Fundamentals
What is the Agoda's problem statement?
The problem that Agoda is trying to solve is that hotels lose customers due to non-user-friendly booking platforms and customers who want to get better deals and do not want to go through the hassle of comparing different individual hotel bookings. Therefore, the problem statement for Agoda is that they solve price comparisons to allow customers to make the best, most well-informed choices when booking hotel rooms.
According to Agoda's Founder Michael Kenny, "Agoda's mission is to make booking hotels in Asia easy and affordable for customers around the globe;'. This is in line with the problem they are trying to solve and to ensure that customers are able to get the best deals they seek and to provide a user-friendly experience.
What is Agoda's proposed solution to these problems?
Agoda and other OTAs have delivered a very elegant, free-market solution to this problem presented by providing a platform which both hotels and customers can easily access. With Agoda's online platform, Agoda lists all of the available hotels based on the customer requirements and links these customers directly to hotels. This allows for theoretical effect information which allows customers to make the most informed choices. In return, hotels get an increase in the supply of customers. This especially benefits independent hotels which people may not have heard of before or explicitly search for.
How does Agoda offer such cheap prices?
As mentioned previously, Agoda uses the marketplace model. This means that, in some cases, Agoda can actually buy hotel rooms directly and in bulk, then offer them to customers at extremely competitive prices. This happens a lot with Asian hotels and is also the reason why Agoda is one of the top performing OTAs in Asia and can charge such cheap prices.
Another factor that illustrates Agoda offering such cheap prices is what is known as 'The Illusion of Choice' or 'self-competition'. This is where both Agoda and Booking.com trick people into thinking that both sites are major competitors offering different prices to undercut each other, when in reality it does not matter which company the customers choose to buy from as Booking Holdings, the parent company, ultimately earns all of the money.
What is the hotel booking business market size?
We calculate the market size of hotel booking OTAs in Malaysia by multiplying the number of hotel rooms available in Malaysia each year by the total revenue of hotel rooms per year. Then, we multiply this value by the assumed average of 15% charged as commission from Agoda.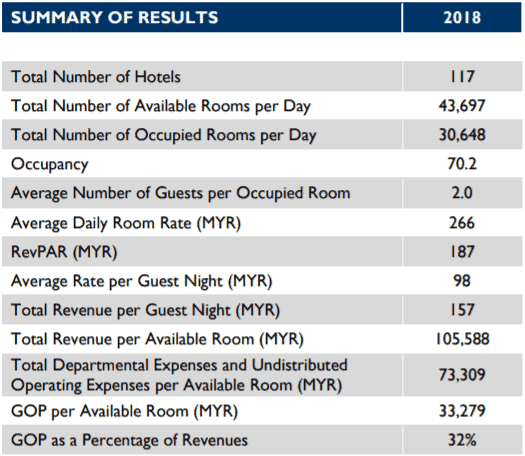 According to the 2018 Malaysian Hotel Rooms Survey, the total number of available rooms per day is 43,697. By multiplying this by 365 days, we get the total number of available rooms in a year. The data above also shows the total revenue per available room in a year to be RM105,588. By multiplying the total number of available rooms in a year by the total revenue per available room in a year, we get the total potential revenue for all hotel rooms in a year. We multiply this by 0.7, as we assume that the rooms are only going to be booked out for 70% of the year. Therefore, assuming a commission rate of 15% charged by all OTAs, multiplying the total potential revenue for all hotel rooms in a year by the commission rate of 0.15 gives us the market size of the hotel booking OTAs in Malaysia.
Calculations:
Total number of available rooms in a year = 43,697 x 365 = 15,949,405
Total revenue per available room in a year = RM105,588
Total potential revenue for all hotel rooms in a year = RM(105,588 x 15,949,405)
0.7 x Total potential revenue for all hotel rooms in a year = RM1,178,846,042,598
Market size for hotel booking OTAs (assuming commission rate of 15%) = RM1,178,846,042,598 x 0.15 = RM176,826,906,389.70
However, it should be noted that the actual estimation for the Malaysian hotel booking OTA industry is much larger than the figure provided above. For example, by extrapolating using Malaysia's tourism numbers and multiplying this figure by the total revenue per available room in a year before multiplying by the assumed commission rate of 0.15, this figure is much larger than the previously noted result. However, this market size calculation may not be entirely accurate either. The reason being the only way to get an entirely accurate calculation of the market size of the hotel booking OTA industry is by getting all hotel room numbers in major countries where the OTAs operate in.
How does Agoda make money?
In Booking.com's 2019 annual report, it is stated that it gained $25.79bn that year. As Agoda utilises only marketplace model for the Agoda business model and the only other subsidiary of Booking.com, (Priceline) which utilities marketplace model has only 18% of its revenue gained from the marketplace model, we can safely predict the revenue of Agoda to be at least $15bn.
As previously stated, Agoda's revenue is derived from customers who pay them the cash upfront after buying a certain package or place a hotel booking and the commission it gains from the hotel when customers book rooms or packages through Agoda's platform.
Is Agoda a profitable company?
According to Hughes of Agoda, "Agoda is a highly profitable company", especially in the Asian landscape. He continues, "That may not seem like much to say in the US or Europe. But to be a profitable e-commerce company in Asia is actually astounding". Agoda has generated a rough estimation of $1.2bn in revenue in 2017 alone and is still growing year-on-year.
As discussed throughout the article, Agoda's extremely low relative cost and utilisation of the marketplace business model makes it an extremely profitable company. As a reminder, profit is the difference between revenue and costs. In terms of revenue, Agoda's year-on-year estimated revenue increases by a few million dollars every year. This shows a high revenue company which has high, consistent growth in revenue every year.
Furthermore, their low relative costs are due to their utilisation of the marketplace business model. This, essentially, means that Agoda does not have to spend on hotels, a large number of staffs to run the hotels and other staff to run their business. Agoda's cost is usually based purely on their marketing and platform enhancements. This means that even if Agoda is suffering from slower revenue growth in a year and struggling to break even for that year, Agoda can easily cut marketing cost to maintain a healthy revenue, and therefore profit, for that year.
This shows Agoda to be a highly profitable company.
What makes Agoda unique relative to its competitors?
Agoda's competitive advantage is that as a subsidiary, it does not usually focus acquisitions on other OTAs but on improving its own platform. This allows for an increased value proposition to customers. Furthermore, as described before its single brand approach allows for strong web strategies in which it garners a higher number of web visits. Agoda's reward scheme 'AgodaPay' can be used a: hotel points as well as airplane points. Its strong presence in Asia also makes it more competitive in Malaysia as it means that it is covered more on the news and appears more on searches due to their strong geographical advantage.
What is Agoda Cash?
Agoda Cash is a rewards scheme by Agoda, to compete against the rise in rewards scheme made by individual hotels. As compared to other OTAs, Agoda Cash is usually considered to be the simplest travel rewards program in the hotel booking business. This is largely due to their customer-friendly rewards scheme approach in which there are no complex point system, no restriction or spending and no membership requirements. All the customer has to do is book a listed accommodation which has the Agoda Cash badge on it.
Can Agoda continue operating at a high growth rate?
Agoda has been seen to be very scalable. This is mainly due to Agoda's utilisation of the marketplace business model which allows them to incur very low labour costs, especially as they do not need to hire as many support staff, and can spend more on their marketing to grow their business, as compared t( hotels which have to spend on physical assets such as land, building and staff whilst also spending on marketing to compete with Agoda and the other OTAs This also links to the fact that Agoda's scalability is strongly tied to its marketing success and spending. This is evident in Agoda's acquisition of Digitas in September 2019 to improve its data-driven marketing.
Agoda and many other OTAs are reliant on customer acquisition on its scalability. This means the more the available customers, the better Agoda will scale. Therefore, this is somewhat dependent on the state of the economy as well, as better consumer confidence will usually mean a higher number of available customers. Another way they can expand and scale is by reaching other countries and locations. Due to the fact that Agoda is only more dominant in Asia, they can scale by reaching other continents like America and Europe.
Is Agoda a reputable booking site?
Yes, Agoda is a reputable booking site which has been operating since 2005. As a business which relies on strong customer satisfaction and reviews to legitimise its business, Agoda ensures that it has a strong reputation among its customers. For example, Agoda has a very attractive cancellation policy which states that cancellation requests submitted, prior to the due date noted on your confirmation, will normally be refunded 100% of the cost of their stay.
Agoda does not even charge a processing fee for cancellations. This means that even if a customer does not trust Agoda and chooses to cancel his order, he can do so at any time before the actual stay without incurring any processing fees.
Does Agoda have a strong team?
Agoda's management is extremely capable and has a long background experience. With the likes of John Brown as their CEO, having joined Agoda back in 2010 and was previously a Principal at Boston Consulting Group in Boston, to the likes of Robert Rosenstein who still runs the company as their chairman, since founding Agoda in 2005, Agoda has an extremely solid management team who ensure that Agoda continues to achieve success.
Even their CTO, Yaron Zeidman has had a long history with Agoda having joined back in 2012 and currently manages a team of over 1,200 people in leading data-driven innovation. Before joining various management-level positions, he was the CTO for Liveperson for two years and the CTO at Kasamba where he was responsible for its research and development group as well as its 15 production operations.
Lastly, their COO, Omro Morgensterm is currently responsible for driving global operations at Agoda. Omri is responsible for driving global operations at Agoda and oversees the Product, Partner Services and Customer Experience Group in his role. As the co-founder and CEO of Qlika, he has been working with Agoda since 2014 when Qlika was acquired by Agoda. Therefore, his loyalty and strong commitment to Agoda is a positive sign for Agoda's management team.
Agoda has a staff of 5,000 in 30 countries, allowing it to have a stronger reach in these countries and focus more resources into improving Agoda's reach in these respective regions.
Who is the owner of Agoda?
Agoda was originally co-founded by Michael Kenny and Robert Rosenstein. In 2007, Agoda was acquired by Booking Holdings. Therefore, Agoda is currently owned by Booking Holdings, which also owns Booking.com and Priceline.com.
What is Agoda's revenue?
What is Agoda's startup traction?
In the startup world, to have traction is to have a measurable set of customers or users that serves to prove to a potential investor that the startup can meet future benchmarks. In other words, this is when a startup has consistent growth in customers, growth in revenue per customers and a sales channel that is consistently working. Therefore, by this definition, Agoda has been seen to have strong traction. As the fastest-growing digital travel platform and a solid sales channel which is being constantly improved since 2005, Agoda has a consistent year-on-year growth in customers, growth in revenue per customers and a sales channel that has stood the test of time.
Despite the COVID-19 pandemic causing a huge hit on sales, Agoda is still forecasted to have a consistent increase in customers and growth in revenue per customers.
Future of OTA
According to Malaysia's Ministry of Tourism, the number of hotels in Malaysia grew by twofold from 2,373 in 2009 to 4,750 in 2018. As OTA's growth is determined by both the number of potential customers and the number of available hotels. This trend is positive towards the growth of OTAs in Malaysia.
Furthermore, as countries around the world become more developed, more people will be able to afford travel and hotel booking and will opt for these options. The age of individual hotel bookings has long passed and OTAs will continue to increase their price-setting powers.

Even with the more isolationist approach of countries like the UK during their Brexit and the recent coronavirus pandemic, there will always be an increase in the demand of hotel rooms and therefore hotel room bookings. Malaysia has always placed a significant prominence on its tourism industry, and with that, there is a growing importance for OTAs in Malaysia.
OTAs will continue to improve their platforms to increase customer satisfaction and acquire companies to help them do so.
Afterthoughts
The strange relationship between hotel chains and OTAs is extremely interesting and entertaining to read and write about. On one hand, hotels greatly benefit from the existing OTAs, especially in the beginning. However, with the greater pricing powers, I can only imagine that the commissions demanded by OTAs will continue to increase, and with that a possibility of hotel chains signing exclusive contracts with certain OTAs.
With the oligopoly which we observe in the OTA industry, I believe that the reason that there will never be any competition regulations enforced on OTAs is that they have a business model which is strongly based on customer acquisition. This means that a high priority of the OTAs is to ensure customer satisfaction. Therefore, most of the burden of the increasing commission lies with the hotel chains and not the customer.
However, we can only make assumptions now on what hotels and OTAs will do in the future. The question is: do you, as entrepreneurs, believe that there is a way that hotels can be more profitable, and how can OTAs prevent this from happening and continue benefiting from their high pricing powers?
Sources
https://www.agoda.com/info/about-agoda.html?cid=1844104
https://www.agoda.com/press/leadership/john-brown?cid=1844104
https://www.agoda.com/press/agoda-fast-facts?cid=1844104
https://hoteltechreport.com/news/direct-bookings-how-successful-have-hotels-been
https://www.prnewswire.com/news-releases/online-accommodation-booking-industry-report-2020-global-market-overview-trends-travel-sales--shares-apps-start-ups-and-more-300988296.html
https://www.orisysinfotech.com/Article_trends-in-the-hotel.php
https://www.hotelnewsresource.com/article106206.html
https://ukdiss.com/examples/hotel-industry-in-malaysia.php
https://innovationtactics.com/business-model-canvas-expedia/
https://innovationtactics.com/business-models-tripadvisor-booking-comexpedia/
https://www.forbes.com/sites/greatspeculations/2019/08/26/booking-holdings-and-expedia-are-both-growing-steadily-but-in-very-different-ways/#761cf73c1f04
https://dashboards.trefis.com/no-login-reguired/pPOckl3C/Booking-Holdings-%26-Expedia-Group%3A-A-Comparative-Profile?fromforbesandarticle=booking-holdings-and-expedia-are-both-growing-steadily-but-in-very-different-ways