What is Crowdfunding?
Crowdfunding is one of the methods to raise capital for a project or venture from a large number of people who each contribute a relatively small amount, typically via the internet. This approach taps into the collective efforts of a large pool of individuals, primarily online via social media and crowdfunding platforms and leverages their networks for greater reach and exposure.
Statistics prove that the global crowdfunding market size was $84 billion as of 2018 and is expected to reach $114 billion by 2021. There are more than 600 crowdfunding platforms globally that raise over billions of dollars annually.
Crowdfunding is essentially the opposite of the mainstream approach to business finance. Traditionally, if you want to raise capital to start a business or launch a new product, you would need to pack up your business plan, market research, and prototypes and present it to your potential sources of finances. These funding sources included banks, angel investors, and venture capital firms, often limiting your options to a few key players. Summarized below is the major difference between crowdfunding platforms vs. other funding sources.
Crowdfunding platforms, on the other hand, turns that funnel on-end. By the entrepreneur, a single platform to build, showcase, and share your pitch resources, this approach leaves some sort of freedom in the hand of the entrepreneur with what they wish to share on the platform about their venture.
This platform has been used to fund a wide range of for-profit, entrepreneurial ventures such as artistic and creative projects, medical expenses, travel, and community-oriented social entrepreneurship projects
Models of Crowdfunding
Just like there are many different kinds of capital round raises for businesses in all stages of growth, there are a variety of crowdfunding types. Whichever method you select depends on the type of product or service you offer and your goals and objectives for growth.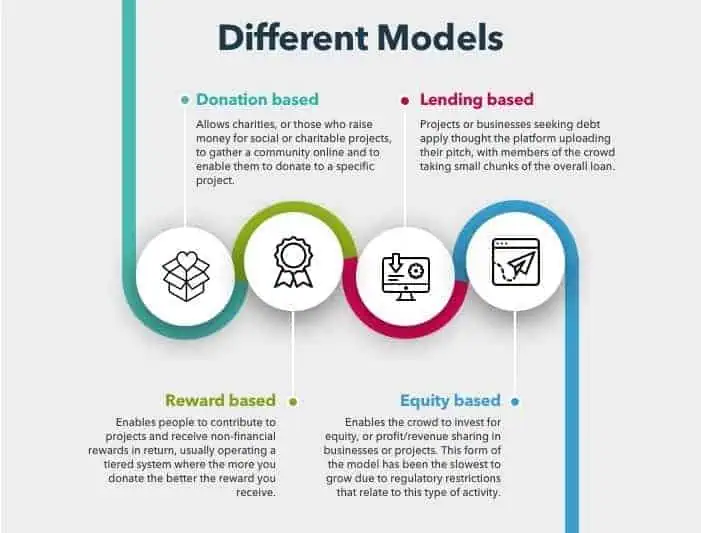 Reward-Based. Business owners describe their project or business idea and fundraising goal on a platform. In return for donations, businesses provide rewards, typically a form of the product or service your company offers. Even though this method offers backers a reward, it's still generally considered a subset of donation-based crowdfunding since there is no financial or equity that you have to give away in return for capital.

Anyone can contribute to this type of funding, family, friends, customers, business partners — can contribute to your campaign. Individual donations are often small, so business owners need to persuade as many people as possible to pitch in. Often, the campaign is shared on social media with the hope that the business owner's followers will, in turn, share the campaign with their networks.

Equity crowdfunding. Equity-based funding allows contributors to become part-owners of your company by trading capital for equity shares. As equity owners, your contributors receive a financial return on their investment and ultimately receive a share of the profits in the form of a dividend or distribution of the profit.

Equity funding for startups is risky by nature, so there are a number of things you need to be aware of if you're considering investing. Startups might take years to churn profits, therefore, it may take years for investors to get their money or dividends back with this type of funding.

Read more about equity crowdfunding in detail here!

Donation Based. This type of funding is quite vague. To put this statement into perspective, any time of funding that doesn't require a return or a share in equity is considered to be donation-based. Donation-based crowdfunding is usually a collective effort of individuals that come together to work towards charitable causes. Donors come together to create an online community around a common cause to help fund services and programs to combat a variety of issues including healthcare and community development.

However, ethical concerns have been raised to the increasing popularity of donation-based crowdfunding, which can be affected by fraudulent campaigns and privacy issues.

Lending Based: Lending-based is also known as peer-to-peer lending. With this type of funding, individuals lend money to businesses or other individuals with the expectation that it will be repaid together with interest added. It is very similar to traditional borrowing from a bank, except that you borrow from lots of investors.
Benefits of Crowdfunding
Opening doors to a wider pool of investors, flexible financing options, there are multiple reason why crowdfunding is considered to be and optimal method of financing. It reaps many benefits for a startup as mentioned below:
PR and Marketing Edge. Advertising on a platform that is visited by millions of people in a day, you can share and promote your campaign through social media, email newsletters, and other online marketing tactics. As you and other media outlets cover the progress of your fundraiser, you can double down by steering traffic to your website and other company resources. Even if your funds do not reach the amount you expected it to, you gain useful marketing experience and exposure.

Concept Validation. Even if there is a lack of funding, presenting your concept or prototype to the masses helps you gain an excellent opportunity to validate and refine your offering. As potential investors begin to express interest and ask questions, you will quickly be able to take note of aspects that might be lacking and start to take note on making improvements.

Ease in Financing. In comparison to other traditional financing methods, crowdfunding is comparatively easier and quicker. An entrepreneur only needs to contact the chosen crowdfunding platform that best suits their campaign theme and purpose, shares their venture's powerful message, makes a video, and establish some attractive rewards to reach out to the audience.

Efficiency. Using a crowdfunding platform, it is already centralized and streamlined to meet your fundraising needs. It saves the entrepreneur time and effort to create campaigns and awareness measure but instead to just focus on selling the business idea to potential investors. By building a single, comprehensive profile to which you can funnel all your prospects and potential investors, you eliminate the need to pursue each of them individually. You can present everything online in a much more accessible format, leaving you with more time to run your business instead of fundraising.
How Does Crowdfunding Work?
40% of crowdfunding investments are focused on business and entrepreneurship, while 20% focus on social causes. Crowdfunding platforms bring people together; they make use of a network of a vast number of people to with certain interests and enable them to contribute to a cause or project that they believe in. It has the potential to increase entrepreneurship by expanding the pool of investors from whom funds can be raised beyond the traditional sources of owners, relatives and venture capitalists.
These platforms have created an opportunity for entrepreneurs and startups to raise capital from anyone with money to invest in nothing more than an idea. These platforms provide a forum to anyone with an idea to pitch it in front of waiting investors and open the doors for many more opportunities. Investors (strangers essentially) can visit these websites and go through hundreds of projects to invest in the ones that they like. There is no minimum amount to the amount that you can invest and more often than not, all contributions are rewarded based on the amount that you spend. A few popular crowdfunding platforms are listed below:
Indiegogo offers both live crowdfunding campaigns and a marketplace for innovative products. It's helped entrepreneurs raise over 1 billion dollars for more than 650,000 projects. Acquire starter capital and find out quickly whether your idea has potential with Indiegogo's "global network of early adopters."

And with this platform, you don't have to stop raising money at a specific time. There are no fundraising targets or deadlines. Plus, you can apply equity, offer securities, revenue sharing, and even cryptocurrency sales.
Kickstarter helps artists, musicians, filmmakers, designers, and other creators connect with the resources to bring their ideas to life. Since their launch in 2009, the company has helped 15 million people pledge $3.7 billion to successfully fund more than 143,000 projects. Funding is all or nothing, so you must meet the goal you set within the allotted time or everyone gets their money back. It's also a promising platform in terms of project success, with nearly 40% of campaigns achieving or surpassing their funding goals, which is quite a bit better than the industry average.
Here is a quick video to help you summarise and grasp the concept of crowdfunding for further clarity.
Who Uses Crowdfunding?
There's two perspectives towards who uses these platforms: entrepreneurs looking for investors for their business and those individuals with ample amount looking for businesses to invest in. For those needing finance crowdfunding platforms provides an opportunity for them to reach a wide audience with their message and their request. It allows them the chance to engage with new finance sources they would otherwise never have known about. The process is centralised and efficient making it easier to raise large sums.
Those looking to raise equity, they can use a crowdfunding platform to pitch their idea/business and raise money for start-ups or established businesses by selling shares in the company.
Those looking for philanthropic support, these requests can be anything from artistic projects, new product development or even charitable donations. They allow people support projects they like without a clear financial reward.
How Do Crowdfunding Platforms Make Money?
Crowdfunding websites generate revenue from a percentage of funds raised. The way these platforms operate is through making money by taking a percentage of the money that is raised during the course of a project. For example, you'll also have to pay a credit card processing fee that is upwards of 3% of each transaction. This number usually ranges from between 3% and 10%, but it can go as high as 30%. This is usually a mutually beneficial arrangement for both the platform and the business owner; you only pay if your campaign is successful.
Transaction rates will differ depending on the platform that the entrepreneur chooses to take. For example:
Indiegogo. For this platform, if the funding goal is reached: 4% of total funds raised. If the funding goal is not reached: 0% because money is refunded to backers. They also charge a 3-5% platform fee for all projects based on the amount.
Kickstarter. If it's successfully funded, Kickstarter applies a 5% fee to accumulated funds. With credit card fees, 3% + $0.20 per pledge. Pledges under $10 have a discounted micro-pledge fee of 5% + $0.05 per pledge. A quick numerical example to put this into perspective, Let's say it's $100,000 is raised. Now, Kickstarter is going to take $5000 in fees (5% of $100,000). The credit card processing fee that is applicable is 3% of your total is going to go to the credit card companies - that's $3000.
Crowdfunding sites provide premium services for an extra fee. This may include access to consulting services, due diligence materials, video creation software, or featured placement on the site. This "freemium" model is becoming very common in the tech industry, and it looks like it is becoming popular with crowdfunding too. There is a big market for crowdfunding support services beginning to emerge, which gives crowdfunding sites extra ways to partner and make money.
The Concept of Crowdfunding in Malaysia
In 2015, Malaysia became the first ASEAN country to have a legal framework on crowdfunding. Deputy Finance Minister Datuk Ahmad Maslan said that "six local companies registered with the Securities Commission have been approved to carry out crowdfunding activities". The Bill, which was passed after two rounds of debates by Senators will protect the interest of crowdfunding investors and companies.
Under the Bill, private companies with a paid-up capital of not more than RM5 million and with a strong business plan can now fund their ventures through crowdfunding. The amount of capital collected through crowdfunding is limited to RM5 million, while small and medium enterprises can crowdfund an amount of up to RM3 million in a year.
For investors, the maximum investment amount is limited to RM5,000 for each company and RM50,000 a year for the total amount of crowdfunding investment. Any fraud committed in crowdfunding activities would fall under Section 179 of the Capital Markets and Services Act which carries a jail term of not more than 10 years and a minimum fine of RM1 million.
Ever since the approval of this Bill in 2015, below are the statistics and growth of Malaysian crowdfunding industry.
In Malaysia, there are lots of crowdfunding platforms you may choose from. Read all about them below and see which one fits your fundraising needs.
Final Thoughts
On a final note, at an initial stage, an investor might not be interested in your ideas, but with crowdfunding, you can be sure that small amounts from individuals will take you closer to building your dream business. Crowdfunding is not just about raising capital but campaigns become great marketing tool as you get the opportunity to reach out to the masses and let them know what you are working on. This is a marketing strategy that works in most of the cases, and you get the unexpected support of the masses, who may not invest in your project but will tell others about the same.
When compared to traditional applications, you can be sure that the process is a lot easier and quicker. Compare it to the loan process or the resources involved in getting other capital investments, and you'll know that there is a huge difference between them. Crowdfunding is easier also because you don't have to invest your money in it. This way, you can start right away, with just the right idea in your mind and the skills to execute the processes whenever needed.
References
Crucial Crowdfunding Stats for 2020
Malaysia first in ASEAN to have Crowdfunding Laws
The Entrepreneur's Guide to the Fees on Crowdfunding Platforms